02.23.11
home | north bay bohemian index | columns | wine tasting room of the week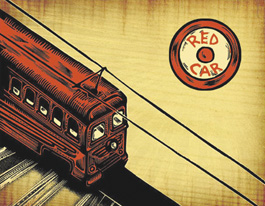 Red Car Wine Co.
By James Knight
Founded in a Beverly Hills garage at the turn of this century, Red Car pays homage to the historic electric rail system that crisscrossed the Los Angeles basin for half of the 20th. While the Los Angeles Interurban Railway's demise is usually blamed on evolving tastes, the tides of change and the like, massive public highway funding plus a systematic dismantling at the hands of auto and gas companies might not have been helpful, in retrospect. Perhaps the Volstead Act merely reflected consumer preference for soda pop over wine. Who's to say?
After a stop in Santa Maria, Red Car laid track up north to a former tractor dealership in Graton. Although to some eyes its nostalgic imagery may evoke a trend in graphically appealing, impulse-priced wines, Red Car is in fact a small, 6,000-case operation with an exclusive focus on Sonoma Coast vineyards (i.e., it has nothing to do with certain other red, combustion-engined vehicles). The remodeled tasting room is art-gallery spartan but fun, with funky furnishings from stuffed shark and vintage motorcycle seat stool to green velvet sofa.
The 2009 Boxcar Sonoma Coast Chardonnay ($23) leads the tasting with aromas of Orange Julius and white flowers, hinting at hydrangea, and instead of oak and butter, a welcome taste of toffee—a nice value for a Chardonnay of this subtlety and provenance. Straightforward and appealing, the 2009 Boxcar Sonoma Coast Pinot Noir ($28) rolls juicy plum and black cherry fruit under vanilla, clove oil and Malbec-like plum-leather tones to a brisk finish.
Red Car's director of sales and viticulture Paul Sequeira says that their style is angled toward a European style: less forward fruit plus more complexity and structure. This shows particularly well in the 2009 Trolley Sonoma Coast Pinot Noir ($45). Warm and wide with potpourri, sage, thyme and cooking-fat aromas, this is a lighter-hued Pinot that puts readily identifiable fruit in the background, with plenty of body and diversions up front.
Due to high marks from the American Wine Awards and other press, the 2008 Boxcar Sonoma Coast Syrah ($20) is the Car's rent payer, while vinted no differently from their reserves, says Sequeira. Packed with brooding blueberry, olallieberry and grape, and scented with gamey, smoked meat and clean, wet hay varietal hallmarks, this cool-climate or "Northern Rhone"styled Syrah is competitive beyond its price point. Other releases include single vineyard and reserve lots.
Located in the green "Gateway to Graton" buildings at the corner of Highway 116, Red Car is adjacent to the Dutton-Goldfield tasting room (formerly Ace Cider Pub). Parking is ample; it can also be reached via the old Petaluma and Santa Rosa electric railroad right-of-way, only blocks away. If your other car is a bicycle.
Red Car Wine Co., 8400 Graton Road, Sebastopol. Open Thursday-Monday 10am-4:30pm. Tasting fee $10. 707.829.8500.
Send a letter to the editor about this story.