March 1-7, 2006
home | north bay bohemian index | news | north bay | news article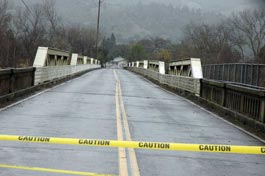 Disconnect: Caltrans initially predicted that fixing the Geyserville Bridge could take two years. Now they know that there's nothing to fix.
Bridge Too Far Gone
Replacing the Geyserville span may require 12 months and an entirely new structure
By Patricia Lynn Henley
When does a bridge divide, rather than unite, the community around it? How about: when it's closed to all traffic.
The New Year floodwaters battered the Geyserville's Highway 128 bridge across the Russian River, hitting the aging structure at more than 30 times normal speed. As a result, the bridge dropped a foot and moved off-center by six inches. It's been closed ever since, cutting this small community in half—a situation that could continue until the end of the year.
What used to be a simple five-minute drive from one side of Geyserville to the other now takes 30 minutes or more. School buses have been rerouted and class times changed to accommodate the longer trips. So far, the school district has paid an unbudgeted extra $9,000 for fuel and salaries. What's more, the volunteer fire department is spending $32,000 a month to staff stations on both sides of the river, whereas before it had incurred almost no monthly cost. Even with that expense, the fire chief still worries about response times if a large blaze breaks out. Business is down at local stores and restaurants.
In other words, not having access to the bridge is a costly, time-consuming pain in the collective Geyserville derriere.
It was first thought that the span could be repaired within six months. But the bridge was built in 1932 and the original plans burned to ashes in some long-ago fire, so the folks at Caltrans must now offer educated stabs at exactly what is happening below the water's surface. They know it's a concrete roadway held up by timber piles, but it's anyone's guess just how many piles are down there and how deep they go.
Caltrans did some exploratory drilling. Except for a few large boulders, they found a layer of sand and gravel at least 100 feet deep; there is no bedrock. The bridge is supported by timbers that are essentially floating on sand.
"The current, existing bridge is in worse shape [than we thought], and it's really feeling its age," says Caltrans spokesman Jeff Weiss. "It would be very difficult to get a lot of years of use out of this bridge if we repair it."
With rebuilding out of the question, the push is on to expedite all the necessary state and federal approvals needed to construct a new bridge by midsummer or the end of the year at the latest.
That's not good news to Geyserville fire chief Paul Pigoni, whose fire station is on the west side of the bridge. Many of Geyserville's homes and other buildings are on the east side.
"We were hoping the old bridge could have a temporary fix put on it so it could at least be opened up to emergency vehicles or one-way traffic," Pigoni says. "We've got fire season coming on and that's going to be a huge, huge public safety issue for those folks on the other side of the river. This summer, if we get a wild land fire moving along, it's going to take too long to get there to protect those people's lives and their property."
Pigoni is applying for FEMA flood funds to cover his volunteer department's sudden and astronomical costs, as is Geyserville Unified School District interim superintendent Joe Carnation.
"As we look at the FEMA applications, they talk about damage in such a way that it doesn't look like ours are a recoverable expense," Carnation says.
The only damage to school property during the New Year storms was an oak tree that fell down, hitting a storage shed. However, schools were closed for a day—losing state attendance-based funding—while officials scrambled to figure out bus routes, how to notify parents and other ways of coping with the bridge closure.
Geyserville's K-5 elementary school is on the west side of the river; the main campus—housing sixth to 12th grades—as well as the district's kitchen, the bus depot and the administration offices are on the east side. Resource teachers who used to visit both locations now have to schedule fewer student visits and spend much more time driving.
River Rock Casino is providing unmarked buses to transport the girls softball and boys baseball teams to their games, and the casino has also had to reschedule its own fleet. "We moved or cancelled [routes] so none of the school buses are passing our buses," says casino spokesman Chris Wright.
And local businesses are suffering. "You can shoot a cannon down Main Street and not hurt a soul," says Harry Bosworth, owner of Bosworth & Son, a hardware store founded by his father and grandfather in 1911.
There simply aren't any quick fixes, says Caltrans spokesman Weiss. "It is easier to get environmental clearance if you're repairing a bridge than if you build a new bridge. If you build a new bridge, you need to take your time to satisfy every everyone who is involved."
Send a letter to the editor about this story.