March 1-7, 2006
home | north bay bohemian index | sonoma, napa, marin county restaurants | review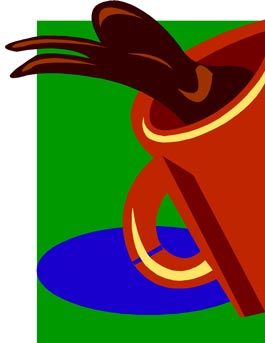 News of the Food
Coffee-Off
By Gretchen Giles
Moving from the Roshambo Winery, where it was held last year, to the Petaluma Sheraton, where it is slated to steam up March 3-4, the Western Regional Barista Competition is definitely in hot water—and that's a good thing. Testing baristas under pressure, the competition asks espresso-artisans to craft four separate drinks within a 15-minute time frame while keep quality and cleanliness at a premium. The baristas must of course also carry on witty and informative discussions. The winner of this regional receives an all-expenses paid trip to the U.S. competition in Charlotte, N.C. Flying Goat Coffee in Healdsburg was proud to have one its baristas, Pele Aveau, place in last year's competition, and the Goat returns as a host this year along with Taylor Maid Farms. For details, go to www.wrbc2006.com. . . .
Insalata's in Marin remains closed through early March for refreshing of its interior, but invites fans to enjoy the Feast Day of St. Joseph's with them March 29 in a benefit for St. Anselm's Adopt a Family Program. For details, go to www.insalatas.com. . . .
For those busy families who want organic, fresh, hormone- and additive-free dinners but don't have the time to shop the farmers markets and prepare the dishes directly, chef Todd Davies comes to the rescue. Marked as a hot chef by critic Michael Bauer, Davies now introduces his Week of Dinners concept, the innovation of which is matched by how local it is. Davies and staff shop the Civic Center farmers market; they deliver for free in Marin, adding a nominal charge for Sonoma County; and whenever possible, they're using such familiar names as "Rosie" and "Rocky." A week's worth of meals, featuring seven evening-style entrées designed to serve four to six people, costs $159. Other entrepreneurs have tried to serve the healthy-wealthy-and-busy market, but few have the advantages of Davies, who has an impeccable restaurant pedigree and a willingness to do the shopping and cooking just like you would—if you had the time. To learn more, go to www.weekofdinners.com.
Send a letter to the editor about this story.