March 1-7, 2006
home | north bay bohemian index | music & nightlife | band review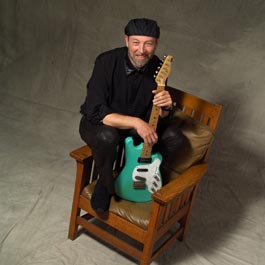 More Than Gold: Richard Thompson's genius shines on.
The Bard Is Back
New box spotlights king of Celtic folk-rock
By Greg Cahill
His songs have been the subject of two tribute albums featuring Bonnie Raitt, R.E.M., Elvis Costello, Los Lobos and Linda Ronstadt, to name a few, as well as an ambitious three-CD retrospective. Now you can add the five-CD box set RT: The Life and Music of Richard Thompson (Free Reed), an extraordinary career-spanning collection of mostly previously unreleased and rare live and studio tracks replete with an exhaustive (and sometimes exhausting) 168-page booklet to his output.
It's impossible to overstate Thompson's talent, which can produce heart-breaking songs of love lost; the wistful ballad of a broken war veteran ("Al Bowlly's in Heaven"); searing electric guitar solos; acoustic guitar works as delicate as the bee's wings that inspired the title of one of his most precious ballads; and one of the most inane novelty songs of all time ("My Daddy Is a Mummy").
This new British import anthology should solidify Thompson's reputation as the hardest working bard in show business. For a guy lacking a major-label deal, the cult king of Celtic folk-rock is remarkably prolific— and ubiquitous. In the past few months, Thompson has issued Front Parlour Ballads and the Grizzly Man soundtrack (both on the Cooking Vinyl USA label), and added an entry to New West's Live from Austin TX concert-recording series.
An 85-track box set, compiled with Thompson's help, RT is arranged thematically and ranges from Thompson's days with the seminal Celtic folk-rock band Fairport Convention and his duets with ex-wife Linda to his solo originals and covers of everything from Britney Spears' "Oops! . . . I Did It Again" to the Who's "Substitute."
The autobiographical and observational disc one, which is titled Walking the Long Miles Home: Muswell Hill to LA, kicks off with "Now That I Am Dead," Thompson's funny and acerbic look at fame from 1991's Invisible Means (an overlooked all-star outing with John French of the Captain Beefheart Band, guitar visionary Henry Kaiser and noise pioneer Fred Frith). It also includes a haunting live version of the tortured love song "The Great Valerio" (with Linda Thompson) that shows how even a lo-fi Richard Thompson recording can produce high-level results. And many of the tracks on this compilation are lo-fi.
Disc two, Finding Better Words: The Essential Richard Thompson, is a greatest-hits package of sorts, compiled from a worldwide poll of fans, with lots of career peaks and concert staples. It features his best-known and oft-covered song "1952 Vincent Black Lightning," as well as "Wall of Death," "Dimming of the Day," "Beeswing," "From Galway to Graceland" and "I Feel So Good" (with a spirited audience sing-along). You might wonder why "Shoot Out the Lights" didn't fall into this category.
The third disc in the set, Shine in the Dark: Epic Live Workouts, spotlights Thompson's transcendent acoustic and electric guitar work, most notably on a six-minute version of "Crash the Party" and a stunning 12-minute rendition of the seldom performed "Sloth." Missing in action: "Hard on Me," his bitter paean to his father from 1999's Mock Tudor and a frequent concert barn-burner.
Disc four, The Songs Pour Down Like Silver: The Covers and Sessions features selections from Thompson's quirky 1000 Years of Popular Music, a far-ranging, self-produced cover project that had its genesis after Playboy magazine asked for and then rejected a list of Thompson's favorites songs for a millennium best-of list. Highlights include a cover of the 1981 Squeeze hit "Tempted," Nick Drake's "Time Has Told Me" and a medley of Johnny Otis' "Willy and the Hand Jive" and Buddy Holly's "Not Fade Away." But the show stopper is "God Loves a Drunk," from Norma Waterson's 1996 eponymous solo debut.
And finally, disc five, Something Here Worth More Than Gold: Real Rarities gathers live performances, outtakes, demos and home recordings—15 tracks of previously unreleased material. The release of this material alone would be big news. Just check out Thompson on solo harmonium on the Celtic dirge "Bad News Is All the Wind Can Carry," from Ashley Hutchins' obscure 1971 cassette-only release Doom & Gloom II: Over My Dead Body.
If that isn't enough, a free bonus mail-order CD sampler, RT on FR, available to the first 5,000 people who purchase the new box set, offers additional tracks from Thompson's work with Fairport Convention, Elvis Costello, Martin Carty and others.
Essential stuff for anyone with a beating heart and an ear for great music.
Send a letter to the editor about this story.