03.02.11
home | north bay bohemian index | the arts | visual arts | review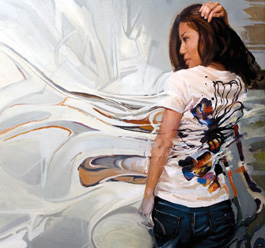 Art Official Intelligence
Kaleidoscope rocks the real estate lull
By Gabe Meline
It all started with an empty building. Namely, the one on Third Street in Santa Rosa, once home to Swensen's Ice Cream, then Viva Mexico, then a series of failed restaurants, and then . . . boom. The recession had hit hard, and realtor Dino D'Argenzio wasn't getting any interested tenants in what everyone had taken to calling a "doomed location."
In stepped D'Argenzio's son Roman, who, along with his good friend Jimmy "Hits" Esquivel, began promoting a monthly art show and dance party on Third Street called Kaleidoscope. Right out the gate, the dead spot was transformed into the place to be. Street art, DJs and breakdancing attracted a packed crowd each first Friday, and for a cheap cover charge in a unique space, no less.
Now, the owners of Rendez Vous Bistro are taking a chance on the site by opening a new burger bar—meaning Kaleidoscope settles this weekend to a new home across from the SRJC. In the past, the nameless venue has been a sewing machine store, a bicycle shop and a college bookstore; in the last year, though, it's hosted art shows, rock shows, flea marts and clothing swaps. It's a perfect site for this weekend's Kaleidoscope, featuring the art of Sergio Lopez (above), Shanti Knapp, Sam Rusk, Garret Bossio, Sierra Sterling and Sonja Vasquez with DJs Jimmy Hits and Primo. It all goes down on Friday, March 4, at 530 McConnell Ave., Santa Rosa. 7pm. $5. No phone.
Send a letter to the editor about this story.