03.02.11
home | north bay bohemian index | movies | current reviews | film review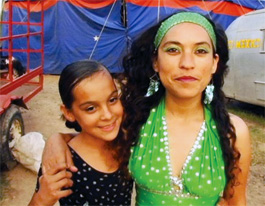 GRAN 'CIRCO'
Family tradition, contortionists, economic obstacles and the music of Calexico collide in Aaron Schock's emotional documentary.
Traveling Circus
Rialto on the Road's independent film series
By Shelby Pope
Persnickety French pastry chefs freaking out over marzipan. A glamorous, radical-Marxist terrorist known as "Carlos the Jackal." A '60s protest singer who testified at the Chicago Seven trial by singing his own folk song and got kicked out of Bob Dylan's limo. These are the characters populating the Rialto Film Festival, starting this Tuesday.
The festival highlights the Rialto on the Road series, which Rialto Cinemas proprietor Ky Boyd started last year after losing the lease on his Summerfield Road location. "I promised we would show some movies in addition to special events," Boyd says. "This is part of fulfilling that promise. These are all films that we definitely would have presented at the Rialto."
The first film is Golden Globe-wining Carlos, which documents the life and criminal times of international terrorist Ilich Ramirez Sanchez, one of the most wanted criminals in the world during the '70s and '80s. (It's shown in two parts, March 8 and 15.)
March 29 brings the life of '60s troubadour Phil Ochs, whose songs have been covered by artists as varied as Jello Biafra, Cher and Teenage Fanclub to the screen in Phil Ochs: There But for Fortune. In Kings of Pastry, screening April 19, 16 French pastry chefs compete for the blue, white and red collar that cements their status as the elite of the pastry world. Circo (above), the final film in the festival on March 26, follows the economic and emotional problems that consume a Mexican family who run a circus.
All films screen at the Sixth Street Playhouse. 52 W. Sixth St., Santa Rosa. Noon, 4pm and 8pm. $10. 707.539.9771.
Send a letter to the editor about this story.