03.09.11
home | north bay bohemian index | columns | wine tasting room of the week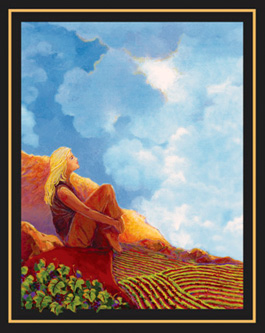 Elder Berries
By James Knight
Like middle age, the term "old vine" has no precise definition, and is subject to continual revision, with some wags putting the threshold for "old vine" as always older than themselves. When speaking of Zinfandel, most vintners agree on vines that are 50-plus years. Many were planted as far back as the 1880s through 1910s, are dry-farmed by default, have deep root systems and yield a modest but concentrated, consistent crop in their golden years. These vines know who they are, and so should we recognize them in the glass—or so the story goes. Others don't bother much with the term, even when their vineyards are positively wizened, complaining that "old vine" is essentially as meaningless as "reserve." This selection was assembled from wines that are explicitly labeled as such. Blind tasted by three and scored from 1 to 5.
Gamba Vineyards 2008 RRV Estate, Old Vine Zinfandel ($43) Warm baking spice, boysenberry aroma over cool, tart red fruit-sauce, grape jelly flavors; hint of caramel. Balanced, supple and lively, finishing on big, leathery tannins. (Postscript: After two days open, the Gamba sweetens up and moves to the top of our list.) ♦♦♦♦
Carol Shelton 2006 Karma Zin, Russian River Valley, Rue Vineyard Old Vine Zinfandel ($33) Deep, dark and blackberry-hued, with cocoa-encrusted, charred blackberries, black pepper, tar and nutmeg aromas, and chewy black fruit flavors. A seriously structured Zin that just pulls off the balance right. Break out the cocoa and pepper-crusted filet. ♦♦♦♦
Rosenblum Cellars 2008 Sonoma County Old Vine Zinfandel ($18) Light-hued, light-bodied with a dusty, earthy haze over subtle fruit aromas; maple syrup and raspberry jam. Strawberry and raspberry preserve flavors on a spicy, long-lingering finish; simpler, but a solid pleaser. ♦♦♦♦
XYZin 2007 100-Year-Old Vines, Dry Creek Valley Zinfandel ($45) Dark earth and cardamom pods, with deep red plum aromas atypical to the genre. Cooked blueberries in sauce, tart black cherry and blueberry flavors leaving a sticky coating of tannin. Pretty good with chocolate. ♦♦♦♦
Ravenswood 2007 Sonoma County Old VIne Zinfandel ($17) Deep color and a bouquet of eucalyptus, camphor or a purple ink tone more typical of Petite Sirah. Warm and chewy on the palate, before a bitter blackberry-seed finish. ♦♦♦
Cline 2009 California Ancient Vines Zinfandel ($18) Fruit aromas masked by dusty, sage powder or a whiff of flowery perfume. Varietally recognizable flavors step in, and the finish is not demanding. Not the favorite, but not too bad. ♦♦♦
Send a letter to the editor about this story.