March 15-21, 2006
home | north bay bohemian index | the arts | books | review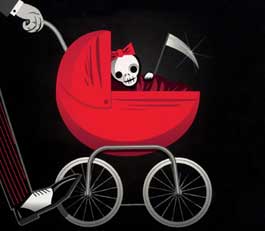 Skeleton Key: Christopher Moore uses the ghastly to get at the goodly.
Death and the Beta Male
Moore finds mirth in mortality
By Bruce Robinson
Vampires, zombies, ghosts and demons have all figured prominently in Christopher Moore's comic novels, along with such really exotic figures as a talking fruit bat and an inept angel with a taste for low-brow TV. So maybe it really wasn't that much of a stretch for Moore to make the protagonist of his latest book a stand-in for the Grim Reaper.
"It's something that was a challenge to me as an artist," Moore acknowledges cheerfully by phone from his home in Hawaii. "Can I write a funny book about death?"
The affirmative answer lies in A Dirty Job (William Morrow; $24.95), Moore's newly minted ninth novel. The opening sentences introduce Charlie Asher, a doting, thirtyish hyper-anxious brand-new father who is, the author assures us, a prototypical beta male.
"If you look at what we in American fiction call the antihero, they're almost always the beta male, by my definition, which is more imagination than is really good for them," Moore, who appears March 22 at Copperfield's Books, explains. "Imagination being the big piece of the beta male, rather than, say strength or coordination."
This isn't entirely Moore's own invention; he saw it enacted while researching marine mammals for his 2004 novel, Fluke. "You run into that, especially, among elephant seals, which is a great, easily observable case study of sexual hierarchy—alpha males, beta males, yada-yada. And I just started thinking about how in most species, the size and strength of the male is what dictates his success in being the leader of the pack, but in human beings that's not necessarily the case. If success is sheer numbers, then the beta male is far more successful than the alpha male."
Maybe there was also an element of recognition in that insight? "Oh yeah, I identify," he agrees. "It's like a biography of me."
For all his nervous tics and beta behaviors, Charlie Asher is quite possibly the book's least eccentric character, surrounded as he is by a lesbian sister who regularly raids his wardrobe, a goth girl chef and a retired cop looking for love on all the wrong websites.
Even more than his human characters, Moore's books are rife with supernatural creatures. But that doesn't mean he believes in ghosts or werewolves or sea monsters. Not exactly. "I just use them as characters of convenience in my little comic puppet show," he says offhandedly. "They're vehicles for what I have to say, metaphors to illustrate whatever point I might have."
About A Dirty Job, he continues, "The Morrigans being this catty bunch of women—that was a fun way to portray death. And then you have this bumbling Orcus, this dark death. I couldn't find 10 sentences about any of those personifications of death, so I thought they would be perfect vehicles for what I want to do."
While he turns his beta imagination loose on the mythical death figures, Moore gives serious and respectful attention to both the principles of the Tibetan Book of the Dead, and the hospice workers of the world, to whom the book is dedicated. He sees commonality between them.
"There's a lot of things in the Tibetan Book of the Dead, their attitude toward that transition that—I don't want to say it coincides with what the hospice people do, their philosophy, but it certainly doesn't contradict it. You see it in the respect and the acceptance of what's happening, rather than the denial that a lot of Western people have.
"This is the most inevitable of all things that's going to happen to us," he laughs, "and yet very often we act like it's not. We're collectively in this giant denial, and Tibetan Buddhism just accepts death as part of life, as a stage."
Moore has learned to apply a similar sort of acceptance to the potential visual fate of his fiction, which also includes such colorful titles as The Lust Lizard of Melancholy Cove and Island of the Sequined Love Nun. "They've all been optioned," he shrugs. "My agent has a saying: Until it opens in 2,000 theaters, it's not a movie, it's a rumor."
Meanwhile, he has already begun work on his next book, a sequel to his vampire love story, Bloodsucking Fiends.
Christopher Moore reads from 'A Dirty Job' on Wednesday, March 22, at Copperfield's Books in Montgomery Village. 2316 Montgomery Drive, Santa Rosa. 7:30pm. Free. 707.578.8938.
Send a letter to the editor about this story.