March 15-21, 2006
home | north bay bohemian index | music & nightlife | band review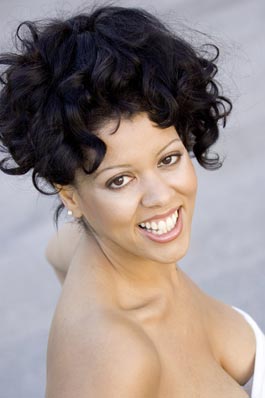 Fresh: Classically trained vocalist Kim Nalley still claims Betty Boop as an influence.
Rebirth of the Cool
Kim Nalley takes on her own voice
By Yoshi Kato
With her symmetrical hairstyle and dark wool coat, vocalist Kim Nalley looks like a big-band singer from a previous era. Bundled up and sipping a glass of wine on the patio of a North Beach restaurant, she also resembles a spy in a World War II movie.
Her journey to the world of jazz has been marked by some unusual influences. While some jazz musicians grow up jamming around the house, playing living-room DJ with their favorite recordings or hearing their parents performing at gigs, Nalley received her initial exposure to the great American standards via the small screen.
"I always cite Bugs Bunny cartoons and the Little Rascals as seminal influences on my singing, without a doubt," she says. "All of the Betty Boop cartoons with Cab Calloway—all that stuff really, really affected me growing up."
Nalley, who owns the Jazz at Pearl's nightclub in San Francisco, travels further afield March 25 when she performs with organ legend Rhoda Scott at COPIA.
Born and raised in New Haven, Conn., Nalley attended the Educational Center for the Arts high school and began to study opera at the College of Holy Cross in Worchester, Mass. Soon after reaching adulthood, she had her jazz epiphany.
"When I hit 18, different people started asking me to do gigs. First it was a rock band. They were thrilled that I could read music and had taken theory classes from studying classical music," she recalls. "Then these jazz musicians started to get ahold of me."
So how did a former opera singer make such an instant transition to jazz? "I think I'm reincarnated," she states, with the hint of a chuckle. "When I took to jazz, I just took to it like I had been doing it my whole life."
Leaving college in the late '80s, she explored various avenues, including hitting the road as a Deadhead and living and performing in New York City. A few trips to the Bay Area and a brief time living here convinced her that West was indeed best, so she relocated in 1991 and transferred to UC Berkeley in order to study history. She also honed her study of jazz.
"I put an ad up at the Haight Ashbury Music Center, and B. J. Papa called me. We would get together every Saturday, all day," she says.
Studying with the Alabama native and piano hero, she began to learn the tunes of the great American songbook. So while others typically learn songs through the interpretations of other jazz musicians—Miles Davis' take on "Summertime" or Chet Baker's recordings of "Time After Time"—she learned the material from the source.
With a flowing tone, an articulate delivery and a formidable understanding of music principles and history, Nalley is comfortable in many a vocal setting. Gigging frequently, she's equally comfortable in an intimate cabaret setting or leading her own Jazztet and Orchestra. A veteran of San Francisco's long-running Teatro ZinZanni (she has played Madame ZinZanni herself), Nalley has produced such historical music revues as "Ladies Sing the Blues." Her most recent recording is a tribute to Nina Simone, She Put a Spell on Me (CE Jazz & Blues).
The jazz scene wasn't so hospitable when Nalley first arrived in this area, though. Freer improvisational styles were initially in favor before the influence of so-called acid jazz took over. But then came retro-swing.
"People thought Frank Sinatra was lame when I moved to this town. They thought [his music] was square," she remembers. "And then all of a sudden, people are like, 'Oh, do you know "I've Got You Under My Skin"?'"
"Even now, those people are still coming to my gigs—after the swing scene had supposedly died out. They come because they just want to hear this Sarah Vaughan tune or 'I'm in the Mood for Love,'" she says. "And they really appreciate the music now, which may have started out as a fad or a clothing thing. But once you start listening to the music, it grabs you."
Kim Nalley and Rhoda Scott (also known as the 'Barefoot Contessa' of the Hammond organ) team up on Saturday, March 25, at COPIA. 500 First St., Napa. 8pm. $22.50-$25. 707.259.1600.
Send a letter to the editor about this story.