03.16.11
home | north bay bohemian index | the arts | stage | review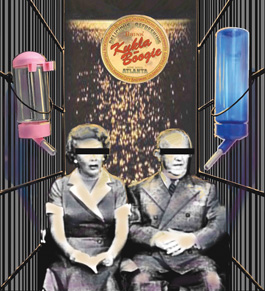 'SPLAINING
Fred and Ethel get caught up in the Imaginists' new show.
Outer Limits
'We from Afar' an out-there delight
By David Templeton
"All of the pieces from which this stage work comes," says writer-actor Eliot Fintushel, "were originally written to be read. They were all short science fiction stories. So it's wild to see them spring to life onstage."
Fintushel is discussing his new play, Science Fiction Theater: We from Afar, developed with Santa Rosa's Imaginists Theatre Collective, where it opened last weekend. The theater legend is best known locally for his lyrical solo shows, in which he adapts famous texts for the stage, performing word-for-word versions of everything from the scandalous poetry of Baudelaire to the apocalyptically wacky Book of Revelation. Last month, also at the Imaginists, Fintushel performed his show Gross, Mystical, taken from the poetry of Walt Whitman. In the second part of a Fintushel-flavored one-two punch, the Imaginists now present a theatrical mashup of the Nebula Awardwinning author's best short sci-fi creations, including one in which an alien comic delivers a routine set in a dystopian world.
"The actor who does it is Brandon Wilson," Fintushel says, "who actually is a standup comic. The stories all had to be changed into a dramatic format, of course, and I feel really lucky to be working with the Imaginists, Brent Lindsay and Amy Pinto. They have the most startling, fertile imaginations. So watching them take my stories and render them for the stage is like watching a two-dimensional object just blow up into four dimensions."
Though Fintushel has published dozens of short stories, many of which have appeared in anthologies of the best science fiction of the year, and seen his novel Breakfast with the Ones You Love published two years ago by Random House, his current show marks the first time his twisted-funny-disturbing sci-fi tales have been adapted to the stage.
"It's been really interesting and fun," he says. "[The stories] really change texture—they have to change texture when they're on the stage—compared to what they were like on the page. I also have some parts in the play, so in the story "Forbidden Planet," this world that I imagined is now looming up all around me. And at one point, I'm watching Santa Claus be beaten up, 'cause you can do that in the future, and in another bit, an alien is gangbanged by females from the future."
Fintushel laughs at the weirdness of it all.
"These are matters of a phrase on a piece of paper," he says, "but it takes on quite another aspect when it's taking place onstage all around you."
'We from Afar' runs Thursday-Saturday through March 26 at the Imaginists Theatre Collective. All shows at 8pm. 461 Sebastopol Ave., Santa Rosa. $10-$12. 707.528.7554.
Send a letter to the editor about this story.