03.17.10
home | north bay bohemian index | news | north bay | feature story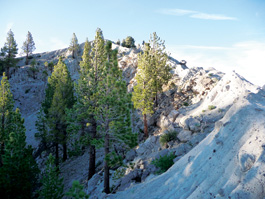 Recreation
Writers Picks
Best Way to Get Lost in Order to Find Yourself
As a part of my master's degree program a few years back, I hit the road to figure out, once and for all, what I wanted to be when I grew up. With the completion of graduate school looming on the dusty horizon while the economy fell into rapid decline and my personal life became plagued with the challenges that life often presents, I traveled to a vision quest destination, led by North Bay guide Maria Gutierrez.
After several hours of winding roads, I arrived, car sick, in the Inyo National Forest of the Eastern Sierras. Equipped with only an avocado, a few gallons of water and a pocket full of Emergen-C vitamin powder, I threw my sub-zero sleeping-bag over my shoulder and carried the smallest tent in the world into the wilderness to get better acquainted with whoever the hell I was.
The blanket term "vision quest" is a reference to ancient indigenous practices throughout the world that are used as vehicles of transformation from one stage of life to the next. Regardless of tradition, surprises and insights are revealed simply by sitting still outside—for a really, really long time.
My first day consisted of choosing the spot I would sit in for three days and setting my space up, which was simple and fulfilling in itself. The next day, however, was rough. I was overwhelmingly pestered with thoughts that distracted my purpose. I fantasized about sex, beer and ice cream—the few pleasures I had deprived myself of for the month leading up to the quest. I was frustrated. I was starving. I missed my kids. I grew increasingly cold as the clouds snuck through Yosemite's Tioga Pass and hovered over the bristlecone pine I was nestled under.
After fears of mountain lions or meth freaks attacking me in the night proved ungrounded, I grew irritated with myself and wished that some cute backpacker would appear, bearing beer and ice cream. Finally, I gave in and stripped down naked in a fit of utter fear and heart-crushing vulnerability. "To hell with it," I thought. "If I am going to do this, I am doing it all of the way." With my bare ass revealed to the heavens, I sobbed in the rough, clay-like dirt, suddenly open to discovering something new inside.
The following days ushered me into a fairly solid but constantly changing understanding of myself. Most importantly, I left with tools that I frequently use when life throws me sucker-punches. And though I have yet to leave society behind for another costly and intense prolonged quest into the woods, I have found that spending even one day alone in a gorgeous North Bay forest is enough to get me centered, focused and prepared to face the world—especially when followed by sex, beer and ice cream. Maria Gutierrez leads her next Vision Quest in the wilds of the Mono Lake Basin this June. www.soul-centeredhealing.com.—D.B.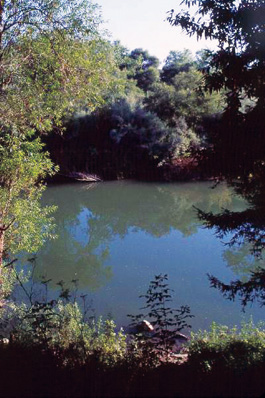 Best Use of an Old Quarry
It was a blistering August day when a friend rang to see if I wanted to go swimming. With a hearty yelp of glee, I gathered my bathing suit, towel and sunscreen and jumped into the car, ready to head out to Healdsburg where she'd said the spot was located. I'm fairly new to the North Bay, and when she began heading west on River Road instead of toward the freeway, I got confused. We turned right at SRJC's Shone Farms, and ended up on a curving tree-lined road heading north, taking the back road into glorious wine country. I breathed in the vegetable smell of the lush, late summer vineyards, marveling that I would never again need pine for a traipse through France. Here it was in my own backyard. We arrived at the outskirts of Riverfront Regional Park, and in the tradition of those seeking the best out-of-the-way swimming spots, parked precariously on the side of the road. We gathered our swimming accoutrements, and a dusty path opened up to a view of a large, gleaming blue pond surrounded by groves of redwood and pine. It seemed we had the whole place to ourselves. My friend told me how the last time she'd been there a ranger lectured her when she attempted to swim in the pond, warning her of the danger from submerged objects in the depths below. We headed instead for the river for an afternoon of lounging on a perfect diving rock over the glassy, refreshing water, an egret watching from a log and the sun warming our bellies as we ate apples above the waterline.
Located adjacent to the Russian River, the 300-acre regional park was transformed from a gravel quarry in 2007. Fishing, hiking through small stands of trees—utterly quiet as a result of the thick blanket of pine needles that cushion the ground—makes for an amazing day out. 7821 Eastside Road, Healdsburg. Open 8am to sunset daily.—L.C.
Best Place to Play Horseshoes & Pet Feral Cats
At first glance, the options for camping in West Marin seem like a sleeping-bag version of the Playboy Mansion vs. the Astro Motel. "Hon," I said, after hours of online scouring, "we can either stay at a $500 bed-and-breakfast for our anniversary"—met with a twisted face of confusion—"or, um, it looks like we can sleep on the beach in Bolinas, for free." Grim prospects for the romantic getaway, indeed, until a friend directed us to the Olema Campground! Rates are around $30 to $40 a night, payable by an old-fashioned check in the old-fashioned mail, and once your tent is all pitched, you can rent horseshoes, do your laundry, pet some feral cats, play croquet and send a postcard from the in-house post office. The docile emanations of lowing cattle pierced the dawn's calm while we fiddled with the Coleman and mixed up the Bisquick with red food coloring, trying in hilarious futility to shape our pancakes into hearts. 10155 Hwy. 1, Olema. 415.663.8106.—G.M.
Best Place to (No Longer) Contract Hepatitis
In early 2008, heavy rains overwhelmed a Marin County wastewater treatment plant, resulting in the spillage of about 3.5 million gallons of raw sewage. Following two system breaches in the span of a week, the refuse flowed into Richardson Bay, closing the popular recreation spot to boaters and fishers, and endangering wildlife. One report colorfully illustrated the first spill by noting that the amount of sewage, if molded into a rectangular, gelatinous sewage sculpture, would cover an entire football field, including both end zones, in more than six feet of sludge. The Sewerage Agency of Southern Marin was fined
$1.6 million, and Richardson Bay, the once pristine arm of the San Francisco Bay, unceremoniously received the "Best Place to Contract Hepatitis" mantle. But there is redemption in this parable. The following year, only half a million gallons were spilled in the bay. Officials from the Sausalito-Marin City Sanitation District found the leaking pipe, which was losing about 250 gallons of untreated sewage every minute, and fixed it as soon as they could during the first low tide. As for the engineer who had to wade out there to fix it, we can only hope that he or she was adequately compensated for what happens when a person throws up inside a HAZMAT suit. After the heavy rains that characterized the beginning of 2010, one might expect that the bay should be in for another good bucketing of crap, but instead, the wildlife and the water remained mostly free of untreated sewage. So Richardson Bay, after falling from grace, is redeemed as one of the best places in North Bay to enjoy some nature. Greenwood Beach Road, Belvedere Tiburon. 415.388.2524.—K.M.
Best Free Spin
Most of us jump-start each new year with high ambitions that might include taking up knitting, tossing out the cigarettes for good, learning a foreign language, losing 20 pounds, landscaping the backyard or opening an orphanage in an impoverished country. Most of these ambitious attempts at New Year's resolutions are soon met with defeat when we tally up the costs of classes, services, and airfare to and construction costs in Malawi. To add insult to injury, if you have found yourself with extra free time because of a layoff or reduction in work hours, you have also found yourself lacking the funds to partake in any of your desires. Luckily for women in Sonoma County, improved fitness, at least, is just a wheel-spin away and absolutely free. Santa Rosa's Nor Cal Bike Sport offers free Saturday morning ladies' rides at 9:30am every weekend. With experienced staff member Jen Toland leading the moderately challenging, 20- to 30-mile rides, cyclists are sure to get back into the swing of a fitness routine in the most beautiful cycling terrain in the world. Meet Saturday mornings at NorCal Bike Sport, 425 College Ave., Santa Rosa. 707.573.0112.—D.B.
Best place to Lose Your Shoes
A geneticist, a mycologist, an editor and a third-grader got into a boat. The editor was skeptical about the voyage, but the mycologist was adamant. The geneticist merely lied. "This is a family tradition," she told the third grader as the group set unsteadily out upon the Bolinas Lagoon on Christmas Eve morning for the first time ever. The mycologist neglected to consult the tide chart, the geneticist shouted rowing instructions, the editor misnamed migrating birds, the third-grader asked about breakfast. Out they went, steering clear of sleeping sea lions, which they suddenly perceived as being unnaturally hungry for yuletide humans. Yuletide, neap tide, low tide. Lower tide. No tide. The mycologist wouldn't believe it. The geneticist made the best of it. "The boat is supposed to skim the mud," she told the third-grader. The boat slowed, the boat stopped, the boat stuck. The mycologist leaped out. The editor leapt as well. The geneticist said, "This is part of our family tradition." The third-grader wept quietly, certain that Santa would never find them now. The mycologist pushed. The editor shoved. The boat moved. The mud sucked. The shoes remain, awaiting next year's annual family tradition. 4900 Shoreline Hwy. 1, Stinson Beach. 415.868.9244.—G.G.
Send a letter to the editor about this story.