March 22-28, 2006
home | the papers | north bay bohemian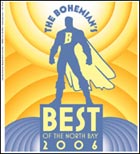 The Bohemian's Best of the North Bay 2006
Editors and readers select their favorites.
Culture: Writers' Picks | Readers' Choice
Everyday: Writers' Picks | Readers' Choice
Food & Drink: Writers' Picks | Readers' Choice
Kids: Writers' Picks | Readers' Choice
Recreation: Writers' Picks | Readers' Choice
Romance: Writers' Picks | Readers' Choice

Convicted Felons Defend Themselves
Does necessity always give a jailhouse lawyer a fool for a client?
News Briefs: Pleasant Care Convalescent of Novato
Nursing home's parent company, Pleasant Care Corporation, agrees to $1.35 million settlement and a court-enforceable plan for improvements in the care of its elderly residents.

The Byrne Report: John Alden
State assembly candidate John Alden is running dead last as a fundraiser.
Car Culture: Hydrogen Power
Hydrogen can be made by electrolysis: splitting water. And the energy for this process could come from wind or solar power.


Music Review: Moondog
Moondog's 'The Viking of Sixth Avenue' a heartbeat of two speeds.

MORE NIGHTLIFE

NIGHTLIFE LISTINGS

NIGHTLIFE CALENDAR PICKS