03.23.11
home | north bay bohemian index | news | north bay | Best of the North Bay 2011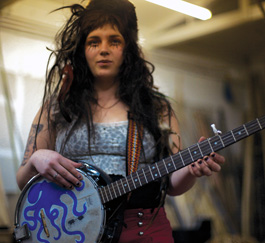 Photograph by Gabe Meline
Culture
Writer's Picks
Best Damn Place in Santa Rosa
A stage dripping with banjos, sweat and hootenanny tunes. Feet stomping on a dance floor for hours to DJs spinning beats. Teenagers tearing into their instruments as if there's no tomorrow. Walls covered in photos, art, T-shirts and hand-painted skate decks. Local filmmakers, David J from Bauhaus solemnly smoking a cigarette on a cob bench in front, kids hanging out in the cozy little lounge or the guy making pizzas in the cob ovens—talking, waiting for the next good thing to happen, as it always does, at the awesome-as-hell, best-thing-to-happen-to-Sonoma-County-in-a-long-time Arlene Francis Center.
The place itself is named after Arlene Francis, who starred in the '50s and '60s as an actress and panelist on the popular television show What's My Line? Francis' son Peter Gabel and partner Martin Hamilton have turned the former New College building into a resource for artists and thinkers, Hamilton says, that's accessible to the entire community.
Twenty-one year-old Celeste Turconi is a familiar face at the Arlene Francis, in charge of everything from booking to security and stamping hands at the door. Turconi already has a long history of activism and organizing, and her enthusiasm and dedication has helped the Arlene Francis Center bloom into the go-to place for indie, alternative and experimental bands, art shows, burlesque performances and film screenings.
"Being more than a club is really important to us," Turconi says. "Having a space for an artistic outlet is really important—that's what I feel as an artist, and I think that everyone in the community feels that way too." Turconi and Hamilton envision a future including a free school, a fully functioning cafe, social-justice workshops, ethical and green business activities, film festivals and more music and art shows. Hamilton notes running a place that generously pays bands is "not the easiest thing to pull off." Turconi says that economic security is the next step. "We've been talking about grant-writing, funding, budget and how to grow that way," she says, her voice fueled by optimism. Here's hoping its growth continues well into the future.
The Arlene Francis Center for Spirituality, Art and Politics. 99 Sixth St., Santa Rosa. 707.528.3009.—L.C.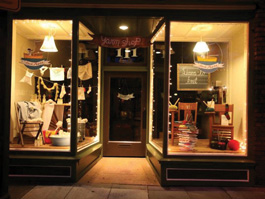 Best Place to Get Totes Whimsical
Even for those who don't knit, a peep into the Cast Away Yarn Shop window display never fails to provide a delight. The double-glass windows always contain some small (or large) treasure—a blue bicycle with a basket teeming with rolled-up yarn, a candy box filled with fabric cupcakes below a row of knit red hearts or even a bird's nest dripping with string and filled with felt eggs, birds hanging from the ceiling above.
Keeping up this lost art of commercial window displays is owner Justine Malone, who mentions a popular display of white jellyfish, hanging in an oceanscape. "We painted the outside of the glass water-blue and left ovals and circles," says Malone, while working on her latest display. "Each little peekhole had a jellyfish hanging in it, so it had an aquarium kind of feel. People would get right up to the glass and peek in."
Malone says the display-worthy windows formed part of the reason she chose the Railroad Square location for her adorable and immaculate yarn shop. With the help of friend Nichole Skalski, the trinkets in the window have become increasingly artful and intriguing.
Oftentimes, inspiration comes from thrift-store finds. A vintage cooler led to a summer-themed piece centered around real sand, knitting magazines scattered about, knitted beer koozies and the cooler full of beer. "The guys liked that one," Skalski says, laughing, though ironically, she doesn't knit herself. "I don't have the patience," she says—reminding Malone about the knit bikini she'll need for next summer's window.
On this day, they're putting together a Presidents' Day piece, featuring white wigs made for last year's Handcar Regatta. Malone's 14-year-old daughter painted a portrait of a presidential-looking character in the window, based on decals found at the second-hand store, as well as black curlique frames through which the bewigged styrofoam heads peep.
"I still have so many ideas. I really want to do a Thanksgiving one where we find a small vintage stove and I knit a turkey," says Malone. "You can do yarn with any theme." 111 Fourth St., Santa Rosa. 707.546.9276.—L.C.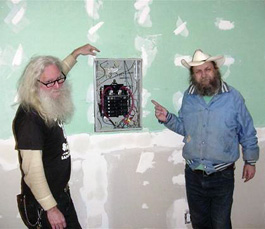 Best On-Air Exorcism
Hearing the exuberant, genre-upsetting music of our youth described as "oldies" may be more alarming than finding that first gray hair. We'd like the oldies playlist to stay exactly the same as when we were newbies, and there's one radio show that does just that. (If the doo-wop, she-bob tunes of the 1950s aren't oldies, then congratulations on that full head of naturally colored hair, sir or ma'am.) On Friday nights on mostly-Spanish bilingual radio station KBBF, vintage gringos Duke and Banner spin one-hit and no-hit wonders alike. In between the obscure 45s and copious cornball banter, the duo pay their respects to whatever one-time recording artist or media personality has passed on during the previous week—axiomatic of the genre, they're checking out in far greater numbers than checking in. But the silly-somber, radio play–like schtick is a strange comfort: "I understand his ghost is hanging around the KBBF radio antenna right now!" they say, putting on a caterwauling sound effect, telling the unhappy wraith to "Go to the light, just go to the light, man! There he goes." The exorcism is always a success. Given the community station's budget woes, we only hope that Duke and Banner need not have to guide its own poor soul home. KBBF. Fridays, 9pm to 1am, 89.1 FM.—J.K.
Best Use of Taxpayer Money
"Oh, people are very taken with this facility," says Jim dePriest, artistic director of the brand-new Cloverdale Performing Arts Center, smack in the historic downtown of Sonoma County's most northerly city. "Since we were first more or less open in December, people drop by every day," says dePriest, "interested in looking around. I've accepted that part of my job is now tour guide, so whenever I'm working there during the day, I expect to be showing people around now and then. I'm happy to do it. It's a wonderful facility."
It's hard to believe that at a time when storied local theater companies are saying goodbye (Pacific Alliance Stage Co. being the first, Sonoma County Repertory Theatre the most recent), there are still parts of the North Bay where new theater facilities are actually being born—with multimillion dollar buildings to house them. After a "soft opening" in December with a production of A Christmas Carol, the state-of-the-art, 99-seat facility had its official grand opening in January with dePriest directing a sold-out run of The Complete Works of William Shakespeare (abridged). The show was a hit, though even more celebrated is the building itself. Approved by local voters before the economic downturn, it features a gorgeous lobby with huge windows that slide back to open out to the street (in anticipation of Cloverdale's notoriously hot summers), stunning fixtures by local artisans and an underlying sense of glamour and culture that the people of Cloverdale are not taking for granted. "It's just so classy," says dePriest. "Everything about the facility is beautiful. To me, it's the perfect theater." 209 Cloverdale Blvd., Cloverdale. 707.894.2214.—D.T.
Best Way to Rock with the Neighbors
'Pillow Storm,' the weekly radio show on KRCB-FM hosted by Josh Staples and Josh Drake, is the best thing to happen to Wednesday nights since Adult Skate. Drake and Staples feature blocks of music, a local musical guest and snarky and silly commentary. Listeners might get a 10-minute-long treatise from Staples on the '90s Petaluma crust-punk band Lungbutter or possibly an extended rant from Drake about how much he hates hiking and loathes AC/DC. Ah, public radio . . . The show began in 2010, an offspring of the show called Left of the Dial. Staples says it's the only indie- and alternative-rock show on the station, and though it showcases music from all over, the Joshes shine the spotlight squarely on local bands, which means a chance to hear local music that might push your cool meter up a few notches. Over at 101.7-FM the FOX, Chris Caballero hosts 'North Bay Underground,' home to nearly every local metal and hard-rock band, as well as indie acts like Odd Bird, Pack of Wolves, Vices and Semi-Evolved Simians. The hour-long, Sunday-evening show began four years ago when Caballero, a graphic-design student and musician, approached the FOX program director. "I'd been listening to local music since high school and thought it would be a good idea," says Caballero. The station agreed, and the rest is (local music) history. 'North Bay Underground' airs Sundays, 7-8pm, on 101.7-FM the Fox. 'Pillow Storm' airs Wednesdays, 10pmmidnight, on 91-FM KCRB.—L.C.
Best Place for Teens to Nerd Out and Nosh Up
On a recent afternoon, five teen girls sit in folding chairs, nibbling on muffins and sipping from plastic cups. "We've had objections that tea is a granny drink, so we have hot chocolate, too," says a Copperfield's employee, before introducing Young Adult author Elizabeth Partridge. This is Copperfield's Books' Literary Tea for Teens series, and far from sullen, these teens are actually interested in what the author has to say. At a time when rapt attention is paid to singers with dollar signs instead of S's in their names (not that I'm judging), it's refreshing to spend a moment with a bunch of teens talking about a book with its author. Grace Bogart, the Copperfield's employee who came up with the idea, says that the impetus came from a desire to showcase local Young Adult authors—and sometimes mini-pizzas. "The high schools don't seem to be able to make time in their schedules for author visits, so we decided to bring them into the store, and offer snacks as well," says Bogart. She says the teens often blog about the events afterward. The teas, limited to Copperfield's Petaluma location, will pause in May and resume in January 2012. 140 Kentucky St., Petaluma. 707.762.0563.—L.C.
Best Presidential Compliment
It was a close call when Bill Clinton appeared at the Uptown Theatre this past October; two months prior, the just-rejuvenated jewel of downtown Napa might not have had a green room for the former president. But luckily, when the fundraiser for Congressman Mike Thompson was announced, manager Sheila Groves-Tracey and owner George Altamura had put the finishing touches on a dressing room for performers at the 1930s movie house-turned-live music venue. What they couldn't have counted on, however, was rain. "We had this meet-and-greet in the patio courtyard," Groves-Tracey says, "and it was pouring rain. Everybody was standing under these umbrellas and tents that weren't working so well. It was kind of a makeshift last-minute shelter that we had to create." Clinton's appearance meant the usual background checks and bomb-threat protocol that come with Secret Service visits, but once Clinton arrived, he spent a good two hours shaking hands and chatting. And what did he think of the Uptown? "I met him as well, as one of the dripping masses," Groves-Tracey says. "He looked me right in the eye, and said it was a beautiful theater. Gorgeous theater, happy to be in Napa, what a place." 1350 Third St., Napa. 707.256.0123.—G.M.
Best Example of Art Clearly Inspired by Diego Rivera Now Placed in Service of Ale-Drinking Patrons Yet Rarely Noticed by the $2.50 Tuesday Brat Eaters and Beer Drinkers Who Gather Beneath It on a Regular Basis
"Today, Caui's style is very abstract, with a lot of animal themes," remarks Kevin McCracken about artist Caui Lofgren. "But back when he was doing album covers for my terrible punk band, Engage, his style was different, a lot more like that mural he painted at Third Street Aleworks." The mural in question, painted in the late '90s, is a gorgeously retro splash of colorful up-with-the-masses inspiration: lots of people, swarthy ale-brewers, lab-coated technicians, happy people getting sloshed and other iconic figures one might imagine in a brewpub if painted by, yes, Diego Rivera. Though Lofgren, who once served as curator at the Sonoma County Museum, now lives in Florida, he left this imprint on Sonoma County across the circular cupola inside Third Street Aleworks, one of Santa Rosa's busiest brewpubs. A fine example of public art, the painting definitely captures some of the up-with-the-proletariat pathos of Rivera's best-known murals, although Lofgren is better known for his current work, mind-bendingly chimerical paintings that resemble Rorschach inkblots as if designed by M. C. Escher. As McCracken recalls, Lofgren was so startlingly good that, even though the now-defunct band he played with was full of graphic artists, they all wanted Lofgren to design their album's cover. "It was a great cover," McCracken says. "The album's not worth shit, but I'm sure that painting is worth a lot by now."—D.T.
Send a letter to the editor about this story.