03.23.11
home | north bay bohemian index | news | north bay | Best of the North Bay 2011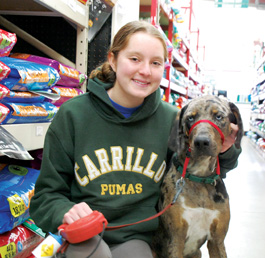 Photograph by Alma Shaw
Family
Writer's Picks
Best Farm in the City
Kids, dogs, roosters, ducks, rabbits, horses, cats, birds, the occasional sheep—one expects to find these things in West Marin, rural Calistoga or the agricultural outskirts of Sebastopol. But in the center of Sonoma County's largest city? This is Western Farm Center, which since 1967 has supplied all manner of feed and other needs to the region's farmers and livestock owners. Like Imwalle Gardens down the road a bit, it stands as an agricultural oasis from a former time, tucked into Railroad Square in the middle of a city that now prohibits keeping livestock—although one wouldn't guess it from the near-constant crowds buying hay, saddle oil and shearing supplies.
"It used to suit us fine, because we had the rail at one time and we used to get boxcars of feed and dog food," says Lou Bertolini, who at age 79 still owns Western Farm Center with his brother Larry. "Back then, there was just nothing here, except for trees and a dump yard. We just starting building it up a little at a time."
Even for those without horses, goats or emus to care for, Western Farm Center still provides some of the best kids' entertainment to be had—and for free. An alcove in the north end of the parking lot houses roosters, bunnies, ducks and other birds, where it's not uncommon to see suburban-raised children pointing and clucking along to something they might only ordinarily see on TV. For larger groups, Bertolini says, the company often arranges tours of the grounds.
"I think when you're a small child, if you take a look at the height of the hay, and when we have the equipment running around and they're seeing it, it's gotta be pretty awesome to 'em. And then we have the live birds—the chickens over there, doves, quails, rabbits, things like that. It's very important to 'em. It's a learning process to 'em."
Part of the store's charm is in its old cash registers, but the store also allows animals to roam the aisles. "We feed any animal, A to Z," Bertolini says.
"We like to help the backyard hobbyists, whatever animal they want to raise. And the people we hire, we try to always have people who are very knowledgeable. We have people that've been here for over 30 years." 21 W. Seventh St., Santa Rosa. 707.545.0721.—G.M.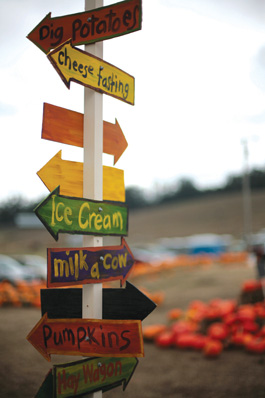 Photograph by Elizabeth Seward
Best Peter Peter Pumpkin Eater (With Cows)
If all anybody wanted were pumpkins, we'd go to the supermarket. Those in the North Bay know there's so much more to the autumn ritual of carving out a jack-o-lantern than just the big orange squash with the prickly green stem; it's about the experience of acquiring it. Tucked way back in the hills of West Petaluma is Peter Pumpkin Patch, located on Spring Hill Farm, a working dairy making cheese. There are cows for the kids to milk, pigs to pet, old farm machinery strewn about, tractor rides, cheese made on-site and handmade ice cream. In the shadow of the early 20th-century Sears kit house, the hay bales and games for kids give way to a giant patch of pumpkins to pick from—which, among the authentic farm experience and otherworldly atmosphere hidden off the main path, will no doubt be an afterthought. 4235 Spring Hill Road, Petaluma. 707.762.3446.—G.M.
Best Baby Goat Day
What's better than several hundred baby goats? Probably nothing, except having an entire weekend to play with them. That's exactly what happens twice a year at Redwood Hill Farm in Sebastopol—four days, actually, of baby goat madness. For the last 15 or so years, when the baby goats (called kids) are hearty enough, the local farm and dairy opens its doors to the public for a wild weekend of goat-milking, picnicking, cheese sampling and baby goats, and it's all free. Folks at Redwood Hill Farm don't actually call the event "baby goat day," because it's more of an open house, timed just when the kids are ready to play. This year the dairy is expecting between 200 and 300 new babies, which according to herd manager Trinity Smith should be arriving any day. Redwood Hill Farm was born about 40 years ago, Smith says, when a 4-H goat herd grew out of control. The Bice family, who still own the farm, decided to turn their lemons into lemonade—or goats into goat milk, as it were. Today, Redwood Hill Farm has about 300 adult goats and their cheese, milk and yogurt is available across the country. The farm's baby goat day tours this year fall on April 910 and May 78, from noon to 4pm. Folks at the farm say if you plan to come, try carpooling—parking is limited, and the country roads aren't meant to be parking lots. 5480 Thomas Road, Sebastopol. 707.823.4790.—K.M.
Best Rebuttal to the Osmonds
Twenty kids are crammed onto a platform raised over the noisy machinery, watching bug-eyed as a forklift dumps a huge load of apples into the water bath. Two sorters cull through them, placing the washed Gravensteins onto a conveyor belt for boxing and explaining just what that bad apple could do to all the rest. The Osmonds had it wrong when they sang "One bad apple don't spoil the whole bunch, girl," and children can literally learn this lesson at Sebastopol's Twin Hills Apple Ranch. The 69-year-old farm delights kids with harvest season tours that teach apple processing from tree to sauce, cider, bread, pie or any other incarnation of the juicy fruit. Groups are also ushered into the walk-in cold fridge to see how the harvest is stored, and afterward are treated to juice and bread—you guessed it, both apple—in the rustic picnic and play area outside. New owner Jeff Palk started working at the ranch as a 12-year-old, and he and wife Kerry are keeping up the founders' traditional offerings. Tours, picnics, weddings, photo shoots, legendary Christmases and everything apple are found in this bucolic setting and family-friendly atmosphere. 1689 Pleasant Hill Road, Sebastopol. 707.823.2815.—S.D.
Send a letter to the editor about this story.