03.23.11
home | north bay bohemian index | news | north bay | Best of the North Bay 2011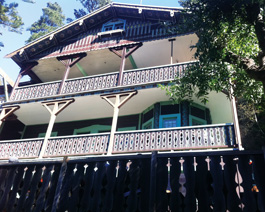 Photograph by Katrina Fried
Food & Drink
Writer's Picks
Best Secluded Pint of German Beer
There's no way around it—to reach the Nature Friends Tourist Club, you're gonna have to work. Nestled in the wilderness of Mt. Tamalpais, this members-only alpine-style clubhouse overlooking Muir Woods is a bastion of promised pleasures for those willing to make the effort. Accessed only by foot, the club can be reached by a few different woodland trails, the shortest of which is a 15-minute hike down a very steep winding path. To make things even more challenging, the Tourist Club is only open to the public three Sundays a month, from 1pm to 5pm.
But upon arriving at the clubhouse steps, one reaps the rewards: tap beer, board games, natural beauty and seclusion. From the club's terrace on the mountainside, visitors can enjoy an ethereal view of the surrounding forest. Stocked with a collection of old-school games—from backgammon to Scrabble—and a revolving selection of German lagers and ales on tap, it's the perfect spot to kick back, enjoy a cold one and hug a few trees.
The traditional German-Austrian design of the clubhouse reflects the storied history of the Nature Friends. Dating back to 1895, the nonprofit organization was founded in Vienna for the purpose of providing working-class Joes with places to study and commune with nature. The Club quickly spread across Europe and the Americas, and today there are more than a thousand lodges and 600,000 members worldwide. The Tourist Club in Mill Valley was founded nearly a century ago by a group of German Nature Friends living in the Bay Area, who, along with other members, built the lodge by hand.
Since then, the Tourist Club has been a secret oasis for those in the know. Sitting on the lower patio below the terrace one afternoon, a young woman playing gin rummy with a group of friends tells me she loves to invite people on a hike nearby and then surprise them by leading them unknowingly to the clubhouse: "The look on their faces when we turn the corner of the trail and the lodge comes into view is just priceless," she says. "They're like, 'A beer garden? In the middle of nowhere? No way!'" 30 Ridge Ave., Mill Valley. 415.388.9987.—K.F.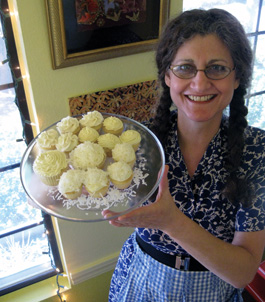 Photograph by Kylie Mendonca
Best Peanut Butter & Jelly Cupcake
People seeking treasure at the Antique Society in Sebastopol should be prepared to find it in an unusual place. The Snapdragon Bakery is equal parts '50s kitsch, small-town coffee shop and Grandma's kitchen. Bakery owner Tracy Elizabeth Walls says that's just what she's going for. "People come in and they feel at home," she says. "They even clear their own tables."
Walls is tall and slim, with long braids over her shoulders, and she often wears vintage dresses and aprons as she buzzes around the cafe to serve up classic favorites like macaroni and cheese with a more modern, adult flair—broccoli, asparagus, mushrooms and artichoke. And though the lunch specials are certainly appetite-inducing, her real specialty is cupcakes, made from scratch.
"Frosting is my thing," Walls admits. Try cinnamon chocolate cake with brown butter frosting, Meyer lemon cakes with lemon frosting, seasonal favorites like peppermint and blackberry cakes with blackberry frosting or the inner-child favorite: a butter cake with jelly in the middle topped with peanut butter frosting. It's quite possibly the best PB&J cupcake on the West Coast.
Walls plays the part of a down-home cupcake chef so well, it's hard to believe she used to work in mortgage banking. When she was laid off from that job more than a year ago, Walls decided to leave the world of cubicles and computers and to pursue her passion for pastries instead. Three months ago she opened the doors to Snapdragon, and the results are as clear as the lines to the door on Saturday afternoons. The cupcakes are a hit, but they do sell out, so get there early. 2661 Gravenstein Hwy., Sebastopol. 707.823.0144.—K.M.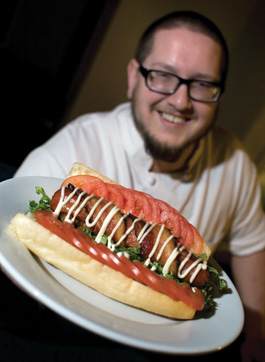 Photograph by Michael Amsler
Best Semi-Invisible Laboratory with Dangerously Creative (i.e., Deep-Fried) Hot Dogs
Tucked away below street level, hard to find unless you're looking for it, is Petaluma's Taps Restaurant & Tasting Room, an eccentric, wide-open sports bar with random touches of the classic German Hofbrau—and the greatest array of whimsically named hot dogs in the North Bay. By sheer word-of-mouth, the year-old eatery-drinkery has drawn scores of first-timers down the stairs into the secretive subsidewalk hotspot with promises of highly addictive, bun-served entrees and outrageously tasty side dishes. Not only have Taps' salt-and-pepper french fries become the stuff of local legend (slathered in big crushed flakes of pepper and enough salt to ruin your blood pressure for days), the fiendish genius Abraham Asay (pictured) has concocted the BLT hot dog: a bacon-wrapped, all-beef dog, deep-fried to a crispy perfection, served on a bun with lettuce, tomatoes and wickedly swizzled mayonnaise on top. With a tall, foamy beer to wash it all down, cardiac arrest never tasted so good. 205 Kentucky St., Petaluma. 707.763.6700.—D.T.
Best $5 Moroccan Veal Tongue Taco
Around and across the food-seeking North Bay, there has evolved a growing squadron of nomadic restaurants on wheels, each of which has its own die-hard following. In recent months, there's been a spanking-new arrival on the scene, and that's exactly what its emergence has been causing: a scene. The Taco Guys (Justin Close and Jason Hoffman) materialized out of the blue last fall, piloting a vibrant orange-red van with a big blue logo featuring their own smiling faces. Old-school road warriors in the social media age, the Guys have fast become the hottest movable feast on the road. Found mostly in Marin, Close and Hoffman travel the Bay Area cooking up some of the best and weirdest $5 tacos in Northern California. Outrageous flavor mish-mashes include smoky pork and pumpkin; beef Colorado with chayote-jicama slaw; Maui fish (crispy and tender) with curried eggplant and leek; and cinnamon-braised beef cheeks with pickled peppers and epizote salsa verde. A true nomadic culinary experience, the Taco Guys' tantalizing tacos have developed a maniacal following of fans, who keep up via Facebook and Twitter. Followers are alerted to the Guys' next location, and are assigned secret passwords—"Slo mo, hobo" was a recent one—that result in free beverages. Locations vary. www.thetacoguys.com.—D.T.
Best Long & Winding Farmers Market
Vineyards along Russian River Valley's Westside Road and West Dry Creek Road are packed together as tightly as a bunch of Zinfandel grapes after an October rainstorm. It's still more grapes than glitz here, however, and mainly family farms—often farming more than just grapes, imagine that. Flower farms, orchards and market gardens share the sunshine here, and from summer through fall, popular wineries and smallholders alike offer up the other fruits—and veggies—of the valley. Preston Vineyards piles peppers, squash and fruits on a table outside its tasting room, possibly the only surface not occupied by a lounging cat, and Dry Creek Peach and Produce provide juicy alternatives to the grape. Verdure Farm (aka "Tomato Heaven") on Westside Road has a one-stop Italian focus with heirloom tomatoes, peppers, Tropeana Lunga onions and Genovese basil, while Roshambo Farms plans to run a farm stand during weekend wine events. Neighbors get into the act, as well, some with just a basket of pomegranates set out under a shade tree with hand-scrawled instructions to weigh your own and pay accordingly on the old-fashioned honor system. Now, if we could just set up and sell our backyard hooch this way . . . Westside and Dry Creek roads, Healdsburg.—J.K.
Best Dried Kiwis with a View
Downtown Oakland stands stately like Oz in the distance. Closer, the Bay sprawls like a valley floor and terminates at the Sausalito shoreline, bristling with boat masts and bustling with traffic. From here, Mt. Tamalpais begins its climb from the water, and the winding Panoramic Highway rises to meet you. It's a vista almost worth paying for—and, surely, this fruit stand halfway to the top of Tam boasts the sort of view unknown to most roadside produce shacks of the flatlands. Based out of an old white pickup truck on the south shoulder of the road, this mobile establishment makes
itself known with a flying American flag and a sign announcing "Macadamias" and "Cherries." That's to draw you in, and a closer look reveals a wealth of goodies in bags and bulk: butter toffee almonds, orange honey almonds, honey smoked almonds, dried kiwis, mangos, bananas, figs, dates and papayas. Most fruits are dried, with fresh fruits appearing in summer, and each is labeled "fun to eat." On warm days, expect chilled lemonade and drinks, but be warned: in cold weather the mysterious battered pickup never arrives—and all you'll find is a stellar view of the Bay. Mile marker 0.38, Panoramic Hwy. No phone.—A.B.
Best Place for Dollar-Beer Goggles
"You've got to be kidding me," I think, after spotting the sign outside of Brody's Burgers and Brews. But there it is, advertising $1 pints. Back in the day, we used to call beer like Oly or Natty Light schwag, and I imagine the brews at Brody's are most definitely going to be of the watery variety passed off as real beer. But no. Happily, Brody's carries at least one decent beer on tap at all times (next to the requisite Bud), including a Brody's pale ale made by Firestone Walker Brewing Company. Other beers on rotation have included an oatmeal stout by Anderson Valley, and Velvet Merlin, also made by Firestone (this one might run you a steep $2). Owner Dale Eckebrech was inspired to start "Buck a Brew" because of his own experience as a college student, when he and his friends used to go to a place called the Wild Cat House. "You could go there and be part of the gang for a dollar," says Eckebrech. With the down economy, he wants to provide the same experience for the broke folk of the North Bay. Just don't try to order more than four pints—that's the cut-off point. 3135 Cleveland Ave., Santa Rosa. 707.526.4878.—L.C.
Best Underground Chef's Gathering
Part culinary club, part locavore social scene, part epicurean potluck, the Homegrown Food Market is a monthly gathering of local chefs and cooks peddling their artisan wares. The brainchild of Danya Adolphs, this roving bazaar was inspired by the popular San Francisco Underground Market. "I just saw great potential for something similar in Marin, which has such a strong food community," Adolphs explains. Launched under a year ago, so far the members-only market has popped up in Sausalito, San Anselmo and various spots around San Rafael. Vendor lineups vary from month to month, creating an ever-changing mixture of old and new offerings. "The vibe is a little different every time," says Adolphs, who has recently added cooking demos and live music to the mix. Chocolate-dipped bacon brittle, organic cupcakes, saucy dumplings, solar-cooked jams, heirloom ketchups, artisinal empanadas, sugarcane juice, meatless German currywurst (made by Adolphs' husband), slow-roasted soups and vegan truffles are some of the products one might find on hand. Membership sign-up in the club is a must (it's free), and then admission is just $5—sign up online, and save a dollar at the door. The next market takes place on April 10, from 11am to 5pm, at the Marin Fencing Academy in San Rafael. Various locations in Marin. www.homegrownmarinmarket.com.—K.F.
Best Gold-Star Chef at a Silver-Dollar Saloon
"Your mission," it says, on the wall above the men's urinal, "is to melt as much ice as possible." I look down. Yep. Ice. In the urinal. It's Superbowl Sunday, and with the amount of beers drunk here today, the ice won't last long. Neither will the food, being cooked out on the patio: pulled-pork sandwiches, lemon grilled chicken, tri-tip. This is the Casino Bar & Grill, the lovable little watering hole in Bodega. The place where locals have walked the hardwood floors since 1939, where farmers debate Caterpillar vs. John Deere and the place where for the last few months, chef Mark Malicki has been bringing his culinary talents to the menu. Malicki's Cafe Saint Rose resides in the pantheon of great Sonoma County restaurants, and his new residency at Casino makes a perfect if lesser-known fit. Recent menus at Casino have included Dungeness crab, Manila clam and smoked hamhock stew; griddled rabbit sausage with French lentil salad; roast pork loin and belly with French turnips in brown butter; wild nettle and butternut squash lasagna; and crispy goose breast with escarole, olives and orange vinaigrette. Most entrees range from $10 to $15, which suits Superbowl regulars just fine. While the game enters the second quarter, Malicki sits out on the patio, behind his grill, among tables kept shady by Miller Genuine Draft umbrellas. "I guess I'm rooting for Pittsburgh, because that's where the Andy Warhol museum is," he says, disinterestedly. "I've never watched a football game." 17000 Bodega Hwy., Bodega. 707.876.3185.—G.M.
Best Tucked-Away Tomato Soup & Grilled Cheese
Nestled in the depths of Muir Woods, surrounded by protected wilderness and wildlife, lies a most delicious surprise. The Trading Company Cafe, a casual, farm-driven eatery, is not your typical park cantina. Reached via a short, flat walking path through the towering redwoods from the park's main parking area, the organic cafe is a glowing model of sustainability and environmental responsibility. Aiming to leave as small a carbon footprint as humanly possible, the Trading Company sources the majority of its ingredients from farms and producers within a 40-mile radius, including local favorites like Cowgirl Creamery, Rocky Chicken and Strauss Farm. A startling "90 percent of the cafe's waste is recycled and composted," says project manager Frank Klein. And nearly every inch of the renovated cabin and outlying deck is built from recycled materials. Reclaimed wood from a batch of 1950s picnic tables has been repurposed into the dining room floor, and recycled glass milk bottles form the countertops. The real motivation to put on those walking shoes is the Trading Company's delicious family-friendly menu of farmers market salads, savory soups, grilled sandwiches, local hot dogs and organic juices. The breakfast menu includes freshly baked goods from the beloved Rustic Bakery. "The mornings are a particularly special time here," Klein says, "with the low-hanging fog and crisp air, we get a lot of locals and regulars then, stopping in to get their first cup of coffee and a pastry after a morning walk or run." Open daily from 9:30am to 4:30pm, it's the perfect place to start or finish a hike. A creamy cup of organic tomato soup and a gooey Mt. Tam grilled cheese in the middle of an enchanted forest? Fantasies do come true. In Muir Woods National Park, Mill Valley. 415.388.7059.—K.F.
Best Locked-Down Hiding Place for Sought-After Wines
In an age when most small wineries are eager to tweet, blog and friend their way toward fame, it's the contrarian vintner who doesn't bother to advertise his presence at all. It's an even more special kind of contrarian whose website materials, such as they do exist, are mainly in Latin and Middle French, who offers no tasting room and whose elusive winemaking operation is well off of the well-trodden path. Appropriately situated in the west Marin town of Bolinas, a bohemian and surfer enclave whose vigilant citizens refuse to abide road signs pointing the way there, Sean Thackrey presides over a "cult" wine production of some 4,000 cases. It's said that there, under the shade of a eucalyptus grove, Thackrey practices "Medieval" arts on his grapes, his methods culled from centuries-old texts, and lets his wines sleep during the long night of levage under the constellations for which they're named: Pleiades, Orion, Andromeda. Neither email nor telephone is likely to elicit a visit; the would-be winetaster may as well chart his path by the stars. Not open to the public; for (some) information go to www.wine-maker.net.—J.K.
Best Unmarked Salsa North of the Border
The Whole Foods across the street from Ortega's Market might have fancy, organic, GMO-free salsa made from lovingly massaged tomatoes. But the small, Latino market in a strip mall next to a doughnut shop is where to find the truly flavorful shizznit. If you're lucky, a plain unmarked plastic tub or two of the red spicy deliciousness will be waiting on top of the meat counter—right near the mole, directly above the tripe—ready to be bought by the next lucky salsa fanatic. If it's not there, it's gone for the day, or until one of the employees decides to whip up another batch. Losses can be soothed with a rice pudding La Michoacana paleta or a crumbly De La Rosa peanut mazapan candy, and you may just want to pitch a tent outside to be the first person through the door the next morning. It's that good. 331 Guerneville Road #J, Santa Rosa. 707.527.9100.—L.C.
Send a letter to the editor about this story.