03.25.09
home | north bay bohemian index | news | north bay | news article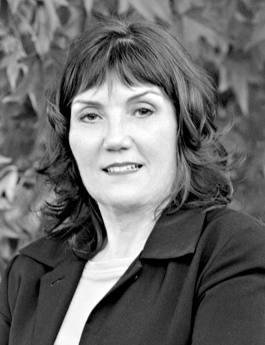 GENDER NUETRAL: Helen Grieco decided to learn self-defense after being attacked by another woman in the NOW offices.
Woman Warrior
Former California NOW chair Helen Grieco isn't done with that good fight
By Hallie O'Donnell
If it can be said that such feminist figures as Simone de Beauvoir and Emma Goldman mastered their existence through the psychological, biological and political examination of their own gender, then surely Petaluma's own Helen Grieco should be included in this company.
Grieco has had a lengthy career in feminist politics, spanning some 25 years, first taking root at the San Francisco chapter of the National Organization for Women (NOW) and eventually culminating in a high-ranking position as the executive director of the California state-wide chapter. Among her other projects, Grieco and her husband, Patrick Phair, founded an anti-violence organization, BRAVE (Building Resources for Anti-Violence Education) People, in which some 10,000 women have been trained in self-defense over the years.
On a recent day, Grieco answers the door while on the phone—this is a woman who is always on the go, and a snapshot of a day in Grieco's life develops: fits of flurried activity driven by her continued clarion call to safeguard women.
Still talking on the phone, she hands over a copy of a poster titled "Women's Words," containing epithets relating to the female experience and words that are aimed to bolster female confidence. Her west Petaluma house is unassuming, the inside cozy, providing her husband and small daughter a safe and loving sanctuary, and it is inside this house, sitting on her couch, that we begin to talk, and evidence of her far-reaching triumphs are handed to me in the form of letters written by politicians Barbara Boxer, Lynn Woolsey and Dianne Feinstein.
Grieco's background is an indivisible part of her drive for the reclamation of power, and her mannerisms, phrasing and unflinching directness derive from her Long Island origins. Hailing from a blue-collar Italian family, she describes some of the family dysfunction she experienced growing up. Recalling her mother's background, Grieco says, "Later on, I found out that she had been raped when she was 15, and I think that sent her into classic promiscuity and all the aftermath behaviors that women suffer going through violence."
Grieco's mother was a victim of regular domestic violence at the hands of her father. Grieco recalls a time as a young child when she saw her mother being beaten by her father and told him to stop. "For me, that was the first moment in my life that I stood up to the abuse of power," Grieco remembers. "And that's how I would define my life. My life has been a long haul of dealing with the abuse of power."
At age 12, Grieco and her mother fled to what Grieco refers to as a "shack" in upstate New York. It was there that the two were forced into a life of deprivation, where even such a basic provision as food was scarce. Grieco saw then the demoralizing effect this had on her mother. She recalls a time when her mother was almost at the end of her rope. "She said, 'I'm a failure as a woman, I'm a failure as a mother, I'm a failure as a wife.' When you're 13, what do you say?"
Listening to Grieco talk about her history, the direct role fate and destiny and perhaps even a little divine intervention have played in helping to shape her life, described as "loops" by Grieco, was evidenced again when as a 22-year-old she arrived in San Francisco from the East Coast, narrowly escaping a job as a sex worker and instead landing a job as a waitress. Grieco's tough-talking, no-nonsense ways built her reputation on Geary Street, where she worked at the Stage Deli on the graveyard shift from 7pm to 3am. "I worked [with] the pimps, the prostitutes, the drug addicts," she remembers. "Everyone would go to the theater and then they'd come in to get their cheesecake and go home, and out would come the night crawlers. I was infamous on the street because I was just so scrappy—I'd say, 'I'm not on the menu, asshole.'"
It's easy to get the impression that Grieco has had 20 different lives. The individual arc that characterizes each of these lives has been punctuated by realizations and inspirations, as was the case when a philosophy instructor at San Francisco State introduced Grieco to Dr. Mary Anne Warren, a feminist and a philosophy professor. "I lit on fire," Grieco says emphatically. "No one ever said 'domestic violence.' It was just like I had the bad family and my dad beat my mom, so it was massive consciousness raising—like this isn't my fault, I'm just not from a bad family, there are political and social systems in place that perpetuate this kind of stuff. Women survivors are stockpiled in this society—I mean they're everywhere."
As her tenure as the executive director of California NOW, there was no shortage of tangible results stemming from Grieco's hard-won achievements, including increasing the funding from $160,000 per year to $1.2 million, and being instrumental in changing family law legislation in California. And it is not only violence perpetrated by men that Grieco was a victim of; she bore witness to political in-fighting at NOW and acknowledges, "There were some very brutal things that happened in the hands of women in the organization." A direct showdown at the S.F. NOW office almost found Grieco thrown out of a two-story window by another woman, inspiring her to learn self-defense.
Grieco now spends her time training women, girls and men in self-defense through the Defending Ourselves Self-Defense School she and Phair run, the BRAVE People organization, and the SHE (Safety, Health and Economic Literacy) Institute, which is specifically geared toward young girls. 
Speaking as if she's addressing all parents who have daughters, she says, "You have got to get your daughters fundamental trainings—you need to teach them about safety, you need to teach them about healthy minds and bodies, you need to teach them about economic literacy. I don't think that anything could be more clear to this society right here and now today than it was to me." 
Helen Grieco is many things to many people: a catalyst, a daughter, a mother, an educator—an example.
To learn more about Grieco's classes in self-defense, go to www.bravepeople.org.
Send a letter to the editor about this story.