March 29-April 4, 2006
home | the papers | north bay bohemian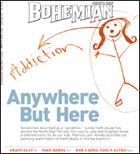 Meth Abuse in Sonoma, Marin and Napa Counties
The first in our yearlong series on the issue.

Grape Glut?
Was the 2005 harvest good or bad for California Wine Country vintners?
News: Briefs
Veggie farm day in Marin.

The Byrne Report: Pale Rider
The civilian murder rate in Iraq rises as America nears its darkest dawn.
Car Culture: Oil and Security
Novella Carpenter reports on David Goldwyn and his ideas for new energy policies.

Movie Review: 'Duck Season'
A day in the life of Mexico City teens.

MORE MOVIE REVIEWS

MOVIE TIMES

Music Interview: Trailer Park Rangers
Eclectic band provide soundtrack for Sonoma County.
Music Website: FakeBands.com
What's so funny about fakebands.com.
Concert: Johnny Winter
Albino bluesman still going strong.

MORE NIGHTLIFE

NIGHTLIFE LISTINGS

NIGHTLIFE CALENDAR PICKS

Interview: Christopher Saywer
Sommelier to the Sonoma Valley Film Festival.
Wine Tasting Room of the Week: Luna Vineyards
Napa winery is all about Italy.
First Bite Restaurant Review: Della Fattoria
Petaluma restuarant is more than just a bakery.

BOOK A RESTAURANT RESERVATION

FIND A RESTAURANT REVIEW

Stage Review: A. R. Gurney
Pacific Alliance Stage Company in Rohnert Park and Sonoma County Repertory Theater in Sebastopol each stage his work.