03.30.11
home | north bay bohemian index | news | north bay | news article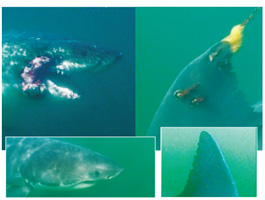 RUN DOWN RETURN:
Before-and-after photos show a wounded, emaciated shark one year after its initial tagging.
Tagged Out
Great white shark tagged in 2009 returns badly damaged
By Alastair Bland
Photographs showing a raw, festering wound around the mouth of a shark that was roughly handled by researchers at the Farallon Islands in late 2009 have surfaced, raising serious questions about a controversial shark-tagging program.
The images depict "Junior," a great white shark fitted with a "smart position or temperature transmitting" (SPOT) tag by San Diego marine biologist Michael Domeier and released on Oct. 29, 2009. The procedure, which involved bringing the shark aboard a floating platform, was bungled when the animal became hooked in the throat. Researchers performed an impromptu surgery using bolt clippers inserted through one of the fish's gill slits to cut the hook, part of which was left in the shark's throat when scientists let it go. They also bolted a SPOT tag to the shark's dorsal fin.
The Bohemian broke the story of Domeier's plans just days before the tagging occurred.
In the year following the event, National Oceanic and Atmospheric Administration (NOAA) officials who permitted Domeier's project—featured on a National Geographic television series—assuaged concerns that the shark might have been seriously wounded by the operation.
But the recently surfaced images show an emaciated animal wearing a SPOT tag in its fin and bearing a large, exposed wound on the right side of its face.
What caused the injury is not known. Though the shark was hooked in the esophagus, the wound is located on his right cheek. When contacted by the Bohemian, Domeier referred to the website of his nonprofit organization, Marine Conservation Science Institute, where he recently posted a statement assuring that Junior's injury is the result of an attack by another shark. Such wounds, Domeier writes, can cause difficulty in feeding and temporary weight loss. Since the photograph, the shark has traveled thousands of miles, according to the veteran researcher.
Other shark experts believe rough handling by the researchers caused Junior's injury.
"In the shark world, bites from other sharks happen all the time, but the chances of them resulting in an abscess like this are slim to none," says underwater photographer Chris Hartzell, also vice president of the Monterey Peninsula Audubon Society. "An abscess indicates a circulatory problem, possibly caused by damage to the skeletal system."
A source close to the photographers who saw Junior last fall reports that the shark was apparently unable to fully close its jaw. Hartzell, who has seen sharks bearing hook-related and bite-caused injuries, thinks the floating buoy that became jammed in Junior's mouth during his capture might have displaced the jaw's joint.
Patric Douglas, who operates a shark-viewing tour company called Shark Diver, has dived with great whites for a decade. "I've never seen a wound like that on a white shark," Douglas says. "Shark bites heal, and that's not a fresh bite wound that's healing. That is a diseased animal that's dying."
Junior was caught and released within the boundaries of the Gulf of the Farallones National Marine Sanctuary, a federal zone where white-shark protections include a prohibition on approaching within 164 feet of one of the animals. Though multiple scientists warned ahead of time that Domeier's hands-on approach to tagging great whites could injure such large, heavy fish, officials green-lighted the project. Junior and a subsequent shark were fitted with SPOT tags before the sanctuary's managers suspended Domeier's permit.
Sean Van Sommeran, founder of the Pelagic Shark Research Foundation in Santa Cruz, has tagged many large sharks using little more than a hand-held lance and has opposed Domeier's SPOT-tagging research since he began applying it to great whites several years ago in Mexican waters. Van Sommeran considers Domeier's methods "a huge leap backwards for shark-research conservation."
Others outraged by the events before and after the handling of Junior declined to speak on the record about the issue for fear of reprisals in the competitive and political world of shark research. These sources allege that the photographs of the injured shark were submitted in fall 2010 to federal sanctuary officials as material to be publicly reviewed.
Douglas wants to know why the photos never emerged when questions were asked about Junior's health.
Mary Jane Schramm, a NOAA spokesperson, told the Bohemian that images and video footage of the injured shark were received too late to be included in a September report evaluating Domeier's project. An upcoming evaluation, Schramm says, will thoroughly discuss Junior's injuries.
Domeier's website states that Junior was most recently detected swimming in the Pacific on March 23.
"So the shark might be alive," Douglas says, "but we need viable breeding animals in the population." Douglas suspects the hook portion left in Junior's throat compromised the shark's health, and believes Junior may not recover.