April 4-10, 2007
home | north bay bohemian index | music & nightlife | preview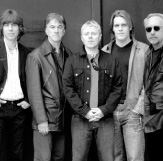 Fresh Faces: The Yardbirds keep up their energy by training new generations of super-guitarists.
Dreja Vu
Yardbirds old and new relive their potent past
By Bruce Robinson
Everyone knows the famous guitarists who first gained prominence with the Yardbirds way back in the mid-1960s--Eric Clapton, Jeff Beck and Jimmy Page--but you have to be a hardcore fan of the hugely influential group to name any of its other members.
That doesn't bother Chris Dreja, the group's founding rhythm guitarist. "The Yardbirds have always been known for very extraordinary guitar players," he relates amiably by phone from his home outside of London. "We're probably on our sixth player at the moment."
That would be 22-year-old Ben King, who will fire up the frets when the reconstituted Yardbirds end a U.S. club tour that brings them to Petaluma April 7. Dreja calls him "an extraordinary young protégé, [who] has a great feel for the music. He reminds me of a young [Jeff] Beck, when I first came across Beck back in the '60s."
Rounding out the current edition of the band are drummer and co-founder Jim McCarty, Detroit-based bassist and vocalist John Idan and harmonica player Billy-Boy Miskimmin (formerly of Nine Below Zero). "We've worked very hard at re-establishing the band in recent years," Dreja says. "In fact, Jim and I have had the band on the road now almost twice as long as the original Yardbirds were."
This lineup is also featured on the newest Yardbirds release, Live at B.B. King Blues Club, recorded in July 2006. "It has a lot of the high energy of our music," Dreja comments. "When you get up onstage, you play that music, and the energy just stems from the songs."
The original Yardbirds also made their reputation as a powerful live act; their first album, Five Live Yardbirds, cut with Clapton in 1964, was a collection of American blues and R&B songs that showcased the band's emerging penchant for the "rave-ups"--extended instrumental explorations building to a cathartic final chorus--that became the blueprint for countless subsequent blues-based groups.
Still, Slowhand soon departed, and a new guitar slinger was needed. "We originally asked Jimmy Page, but he was very busy doing session work," Dreja recalls, "and he actually recommended Jeff Beck," who was then in a little-known band called the Tridents. But not for long.
"This has always been a band that creates music where guitar players can 'stretch their limbs,' if you like," Dreja reflects, "and also at that point we were on the cusp of having a very big hit with a song called 'For Your Love.' So I think Jeff jumped at the chance."
Beck's tumultuous 18-month tenure proved to be the Yardbirds' creative pinnacle. He was an eager experimenter in the studio, where the band wove Middle Eastern shadings into hit songs like "Still I'm Sad" and "Over, Under Sideways, Down," and a fierce improviser onstage, as captured in a scene of the Yardbirds performing in the 1966 film Blow Up.
The rumbling surge of "Shapes of Things" that same year signaled the band's breakthrough into potent pop psychedelia, blazing another trail that many others would follow. That song remains one of Dreja's two favorites, along with "Happenings Ten Years Time Ago," the only record on which both Beck and Page, his eventual replacement, appear together. It's easily the band's most adventurous, heavily produced track and turned out to be the Yardbirds' last record to make the American charts, peaking at number 30.
"When we wrote and recorded it, it was a bit of a failure in terms of a single," Dreja admits. "I think it was a little bit ahead of its time, maybe too avant-garde for the period. But now it's a very well-received part of our repertoire."
As the psychedelic era unfurled, the Yardbirds were already scattered, looking on as their collective influence far outstripped the band's active life. "The Yardbirds were always a band that broke all the rules," Dreja muses. "On the one hand, it was a sort of pop band, had sort of pop hit records. But it also had a very underground side to it as well, a melancholic side. It was a bit of a cult band in many ways."
Revisiting that music 35 years later, Dreja concludes, "I've come back to it very much refreshed. We have a great catalogue to play, you know, but the main thing is there is not only a new audience, but an older audience as well that is very, very affectionate toward this music and the Yardbirds."
The Yardbirds play the last gig of their California tour before leaving for Europe on Saturday, April 7. Local faves the Sorentinos open. Mystic Theater, 23 Petaluma Blvd. N., Petaluma. 8pm. $25; 18 and over. 707.763.2121.
Send a letter to the editor about this story.