April 5-11, 2006
home | the papers | north bay bohemian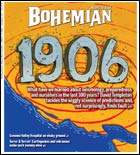 Can the 1906 Earthquake Help Sonoma, Marin and Napa Guess the Future?
Using 100-year-old data, experts scoff at the so-called science of predictions.

News: Sonoma Valley Hospital to Use Eminent Domain?
Land grab or seismic shakeup? Sonoma residents are torn.
News Briefs: Sonoma, Marin, and Napa Residents Protest Immigration Reform
Thousands take to the streets against the proposed Sensenbrenner bill.
Opinion: Berkeley Prof on the Power of Nonviolence
Marin County resident Dr. Michael Nagler on raising a peaceful society.

Car Culture: The Future of Diesel
It's not your father's blue-hued, stinking emission any more.

Movie Review: 'Slither'
Ugh! Tracing the cinematic geneaology of slugs.

MORE MOVIE REVIEWS

MOVIE TIMES

Music Interview: New Riders of the Purple Sage
With David Nelson and Buddy Cage, the North Bay acid-country band rides again.
Music Interview: Devil Makes Three
Too much of a good thing is no longer a problem for this punk-ass newgrass trio.

MORE NIGHTLIFE

NIGHTLIFE LISTINGS

NIGHTLIFE CALENDAR PICKS

Food Essay: California's Wine Country, Earthquakes and Volcanoes
Thousands of years ago, tectonics and terroir conspired to make fine wine.
Restaurant Review: Cafe Zazzle in Petaluma
Bright flavors and razzle-dazzle in new eatery.
Sustainable Eating: Sebastopol Farmer's Market Opens
Choosing foods grown within a 1500-mile radius might help save the planet.
Recipe: Barley Risotto
Sara Bir's Real-Life Kitchen learns to love hulled barley.

BOOK A RESTAURANT RESERVATION

FIND A RESTAURANT REVIEW

Book Review: Franz Wright
Pulitzer Prize-winning poet channels a divine 'Silence.'
Stage Review: Marin Theatre Company
Playwright John Maran's 'Old Wicked Songs' suffers from predictability in Mill Valley.