04.06.11
home | north bay bohemian index | news | north bay | news article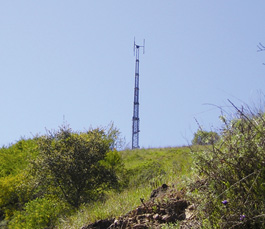 Photograph by Jessica Dur
HILLTOP HUBBUB:
A placeholder tower stands where a 'monopine' would be erected on land owned by the Boy Scouts.
Tower of Babble
Proposed cellular tower in Fairfax gets bad reception
By Jessica Dur
In 1861, the last political rifle duel in California was fought to the death near the home of Lord Fairfax. A hundred and fifty years later, the town bearing his namesake is again embroiled in its own 21st-century duel over a proposed cell phone tower.
Concerned Marin residents gathered in March for a hearing to discuss the plans of NSA Wireless, on behalf of Verizon Wireless, to erect a "monopine"—a cell-phone tower masquerading as a 50-foot-tall tree—on a ridgetop at Boy Scoutowned Camp Tamarancho, whose 480 acres of meadows and trails have hosted hikers, cyclists and scouts since 1945. The proposed tower would be outfitted with 12 panel antennas mounted to reach 45 feet in height, and would sit on a 1,216-square-foot area surrounded by a six-foot-high chain-link fence. The facility would also include an equipment shelter, a standby generator and a 210-gallon diesel fuel tank.
While all in attendance agreed that cell phones are a necessary and advantageous convenience, neighbors cite scores of reasons why the Tamarancho tower is too high a price to pay for better reception.
Like several of his neighbors, political cartoonist Mark Fiore objects to the "sight pollution" of the tower, and claims that it would violate Marin County's ridge and upland greenbelt policy that protects the ridges from development. "If we must use a beautiful open ridgetop," Fiore contends, "we better make damn sure there are no other possible sites that would even remotely work." He compared NSA's alternative site analysis, in which one site was rejected because "the landlord was slow to respond," to "teens driving around trying to score beer."
Zoning hearing officer Johanna Patri has called for further investigation of alternative sites, as well as opinions from the fire department. "If you really know what you're looking at," Patri says, "the tree disguise is not effective."
Over the phone, Marin County planner Lorene Jackson says that because Fairfax is largely a residential community, the tower's proposed site, far from the town proper, remains the best choice. "Just because you can see something that the eye knows to look for," Jackson said, "doesn't mean it constitutes a visual impact."
Fire safety is another major concern. John Beck, who lives in the valley below Tamarancho, compares the tower to "a matchstick in front of a woodsy tunnel." And Rebekah Collins of nearby Monte Vista Road, who, like most neighbors, learned about the tower by happenstance, thanks to a small sign tacked onto Tamarancho's gate, calls the tower "a lightning rod." She fears for an electric fire encouraged by the mix of diesel fuel, plenty of dry kindling and powerful canyon winds.
"The fire hazard aspect is overblown," responds Scott Alber, who has served as Marin County's fire marshal for the past decade. "I don't see it as a big threat, because the tower is grounded and designed to be fire-safe."
Nancy Morita, a property owner on Iron Springs Road, claims that her neighborhood is already a "cancer cluster," which will only be exacerbated by the presence of microwave radiation. "This radiation is also used deliberately to scare bats away from wind turbines," Morita says, "and we dearly love our bats."
While several people remain concerned about the health risks posed by EMF exposure, public safety is one of the reasons Michael Dybeck, CEO of the Marin Council of Boy Scouts, supports the tower. "This tower will serve the greater community," Dybeck asserts, "and help hikers and cyclists call for help in case of an emergency."
According to Dybeck, the undisclosed lease fee that Verizon will pay to the Boy Scouts is "pretty immaterial" in light of the Boy Scouts' annual budget of a million dollars. Interestingly, only those affiliated with the Boy Scouts or NSA Wireless spoke in support of the tower at the hearing.
Neighbor Chelsea Donovan, a member of the Fairfax Open Space Committee, fears that one tower will only pave the way for more cell companies, creating "a ridge of metal mono-pine."
In the meantime, those who are tired of asking "Can you hear me now?" in Fairfax can take note: "I made calls from the top of Camp Tamarancho with perfect cell phone reception," Donovan said at the hearing. "Using AT&T."
The next hearing on the cell tower is scheduled for Thursday, April 14, at the Marin County Civic Center. 10 Avenue of the Flags, San Rafael. 9am. 415.453.1584.