04.06.11
home | north bay bohemian index | the arts | stage | review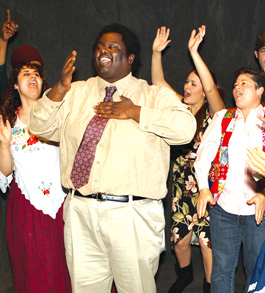 Photograph by Jeff Thomas
SURVIVORS' STORY:
Cast members have been in touch with the Jonestown survivors they're portraying .
Live to Tell
'People's Temple' revisits Jonestown
By David Templeton
"The first clear memory I have about the People's Temple and the Jonestown massacre," says Jennifer King, "is the Time magazine cover, with the photo of all those dead people. I remember feeling the shock, but I also remember feeling such deep sorrow, because they were just people who wanted to create a better life, and in desiring to create that better world, they ended up giving their power over to the wrong person."
King, artistic director of the Napa Valley College Performing Arts Center, is the director of The People's Temple, a hard-hitting play by Leigh Fondakowski (with Greg Pierotti, Stephen Wangh and Margo Hall), which opens this week at the college's performing arts center. The "documentary style" play was constructed from first-person interviews given by actual survivors of the infamous 1978 cult massacre, when the Rev. Jim Jones, founder of the Northern Californiabased People's Temple churches, ordered the murders and forced suicides of 918 people, most of them devoted members of the church. The events unfolded at the People's Temple Agricultural Project, nicknamed "Jonestown," an isolated compound Jones had established in the South American state of Guyana. Congressman Leo Ryan, who was at Jonestown to investigate reports of abuse, was also murdered.
The play is a series of monologues performed by actors portraying the survivors staged in a mock-up of the real-life People's Temple Archive, its walls covered with research by the cast on the people they are playing.
"The cast members," says King, "have been corresponding with the people they are portraying. It's been an incredible experience for everyone involved. Though some of our cast had never heard of the People's Temple before, I think most people just think of the People's Temple as the place where all those people drank the poisoned Kool-Aid. In our show, we really want to shed some light on the humanity of the People's temple, to show that there was real joy there at first, and that's what drew people."
Performed with huge helpings of spirited gospel music, the play is intended as a celebration of life as much as it is an examination of what led to so many unspeakable deaths.
"The journey of the People's Temple," says King, "from beginning to end, is a journey from joy to sorrow. It's a story about giving your power over to another, and what can come of that. We feel an intense responsibility to tell this story right."
'The People's Temple' runs Friday-Sunday through April 17, and Thursday, April 14, at Napa Valley College Performing Arts Center. Friday-Saturday and April 14 at 8pm; 2pm matinees, Sunday. 2277 Napa-Vallejo Hwy., Napa. $15-$20. 707.256.7500.
Send a letter to the editor about this story.