04.08.09
home | north bay bohemian index | the arts | visual arts | review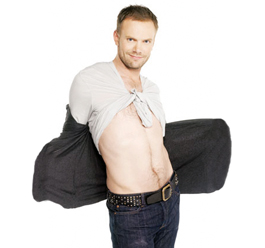 So Meaty!
Joel McHale of 'The Soup' talks gay men, Tyra Banks and live executions
By Gabe Meline
"I love gay men," admits Joel McHale, host of E!s weekly pop-culture roundup show The Soup, assessing his enormous gay following via phone one morning last week. "They seem to have all the money, they're definitely the best dressed, the most in shape. But no one ever talks about my enormous straight following! Or my enormous hermaphrodite following. That's so sad."
Without a doubt, McHale is one of the funniest people on television, with built-in triggers for camp, self-deprecation and absurdity, and all he has to do every week is make fun of what he calls the "morally bankrupt place" of television. "I think there's a lot of schadenfreude," McHale says of viewer mentality. "It's like, 'Look at these freaks.' I see the morbid fascination; it's the Gladiator aspect of wanting to see people fall apart. The shows are becoming so insane. I can't imagine what it's going to be like in 20 years."
Really? Can't he make a guess? "I'm gonna say live sponsored executions," McHale sighs. "It'll be like Monday Night Football."
McHale himself has a background in theater, a healthy dose of Catholic guilt and teenage memories of driving down the streets of Seattle blasting "Posse on Broadway" by Sir Mix-a-Lot. He was always the one yelling at the television in his underwear, he says, and cannot believe he now gets paid to do it in a suit—nor can he believe that the world's craziest people, including Tyra Banks and Bruce Jenner, hate his guts for simply pointing out the obvious.
"I know that David Hasselhoff is not a big fan," McHale explains, "but he shouldn't have gotten totally wasted and started shoving tacos in his mouth! It's like, what do you expect us to do? We never go after people because we have a vendetta. We try to let their clips hang themselves."
McHale's standup tour comes to town this weekend. "I talk a lot about pop culture, I talk a lot about behind the scenes at E!," he says. "That's half the show, and the other half I'm talking about my life and my family, which is a nutty, nutty place. So it's half-and-half; there's something for everyone. And then I take my pants off."
Joel McHale takes his pants off on Saturday, April 11, at the Wells Fargo Center, 50 Mark West Springs Road, Santa Rosa. Two shows, 7pm and 10pm. $39.50. 707.546.3600.
Send a letter to the editor about this story.