04.08.09
home | north bay bohemian index | the arts | visual arts | review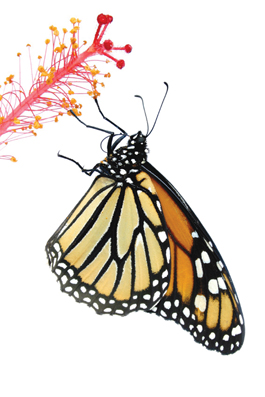 SOUTHERLY: It can take five generations for Monarchs to return each year from Mexico.
Pins and Needles
Peter Laufer's dangerous world of butterflies
By P. Joseph Potocki
It wouldn't be Holy Week in Chihuahua without the tacos—Tarahumara butterfly pupae tacos—slathered in special seasonal sauce, to be exact. And in Australia, sweet, fire-roasted bugongs, their wings and legs removed, have long been an aboriginal gastric delight.
In his latest book, The Dangerous World of Butterflies: The Startling Subculture of Criminals, Collectors, and Conservationists (Lyons Press; $24.95)  author, broadcaster and journalist Peter Laufer turns from weighty subjects like war, politics and foreign policy to the ephemeral but sometimes deadly world of butterflies.
And it all began as a joke. Based in Bodega Bay, Laufer was speaking at a promotional event in Bellingham, Wash., for the launch of his previous book Hope Is a Tattered Flag. An attendee inquired after the nature of his next effort. Having addressed a wide range of serious topics in 16 previous books, Laufer off-handedly remarked that perhaps he'd next amuse himself with "butterflies and flowers."
The Bellingham event happened to be broadcast on C-SPAN. A woman watching the program took Laufer for his word and invited him to her remote butterfly reserva in Nicaragua. Thus Laufer's musing morphed into what turns out to be colorfully flightful and sometimes dangerous business.
Laufer begins by regaling us with stories of drunken butterflies, flight dynamics, communication systems, pompous experts, breeders and fluttering loads of exoterica. He lavishes such facts as:
•  There is no official name for a mass of butterflies;
•  Experts still debate the butterfly's role in nature;
•  No new species has been discovered in America for the past 50 years;
•  The website IHateButterflies.com is for lepidopterophobs—people who "fear, are disgusted by, and generally dislike butterflies";
•  Monarchs make haste from Canada to winter in Mexico, but expend four or five generations before finally making it back.
Judging from this, one might get the notion that here we have a modestly pleasant toss. But reading into the heart of the book, things turn serious.
Laufer profiles Hisayoshi Kojima, the man who calls himself "the world's most wanted butterfly smuggler." Laufer's Kojima story is a mini detective thriller. It begins with Fish and Wildlife Service agent Ed Newcomer, who picked up a cold case investigation of the smuggler begun by his agency in 1999. Newcomer went undercover, tenaciously tracking Kojima's sales of rare and threatened butterfly species. Newcomer stuck with the case until Kojima was finally sent to federal prison, seven years later. Laufer's telling includes plot twists, false starts, ego strokes, exhilaration and even unrequited lust.
But as it turns out, Kojima's tale was just a tease for the serious cloak and dagger stuff that follows. He was a smuggler, yes, but Kojima was just a middle-man.
The violent butterfly baddies are the poachers. Laufer quotes naturalist and biologist Vladimir Dinets, who tells him, "Professional poachers are tough people, excellent mountaineers, and they try to make friends with local warlords and drug smugglers." Dinets, who has tracked the trade on expeditions into Central Asia, points to the sophisticated espionage technologies and techniques employed by the poachers, describing them as "James Bond–style."
Laufer also tells of forest guards in Darjeeling protecting what are characterized as national living treasures, confronting poachers armed with AK-47s, while the guards themselves carry mere sticks; and of the sensational Bengali court case of a Czech beetle research aide convicted of poaching rare butterflies who subsequently fled from justice.
But at least one butterfly expert, University of Florida's Thomas Emmel, feels all the legal fuss is much ado about nothing. According to Emmel, "No butterfly has been exterminated by overcollecting, ever."
It's difficult to pin down the practical, never mind the intrinsic value of butterflies. While one expert says, "Butterflies are hope," another counters, "They're really just pretty-colored cockroaches." No matter personal opinion, though, Laufer's The Dangerous World of Butterflies packs real entertainment wallop in a book filled with informed tidbits custom-designed for cocktail hour. In fact, did you know that Ron Boender, the proprietor of Florida's Butterfly World, is a big Bill O'Reilly fan? "I think he does a good job of presenting the other side of the story." Indeed. And so does Laufer.
Send a letter to the editor about this story.