04.08.09
home | north bay bohemian index | movies | current reviews | film review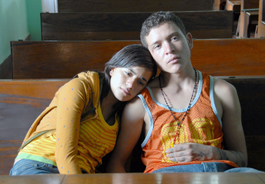 Borders
'Sin Nombre' gives a name, face and story to immigrants
By Richard von Busack
We who write about film in the Bay Area like to think we keep a good eye on upcoming talents. And then a phenomenon like Cary Fukunaga comes along, and we're caught with our pants down. Fukunaga lived around the Bay, growing up in the hills of East Oakland before moving to Sonoma County and then Albany.
Over the phone, Fukunaga says that he was a UC Santa Cruz grad in American history. He wrote his thesis on the politics of history-telling, which he illuminated with the story of two controversial exhibits at the Smithsonian. "It was great," Fukunaga says of his five years at UC, adding that he didn't become a film major there, because he thought the film professors were "pretentious."
Instead, Fukunaga moved on to NYU film school. With the help of the Sundance Institute, he created a feature film as his thesis. His much-lauded debut, Sin Nombre, invites comparisons to Nicholas Ray's They Live by Night and Terrence Malick's Badlands. Yet Sin Nombre ("Without Name"), a tale of immigrants fighting their way north from Guatemala and Mexico, isn't consciously modeled on any of these films.
I asked if he had been thinking of great film noirs in the movie's closing scenes: Casper (Edgar Flores), a young lieutenant of the southern Mexico Mara Salvatrucha gang, hides in a shipment of cars to the U.S. border with his Guatemalan friend Sayra (Paulina Gaitan). She has been crossing Mexico by land in order to join her family in New Jersey. It is the exact moment where they go from fellow travelers to people in love. Casper knows he's a goner; the graffiti he sees lets him know that his gang has pronounced him dead—the writing is literally on the wall.
Fukunaga does not mention crime-story movies when recalling this particular scene; what he was after, he says, was the magic-hour twilight shots of Iceland in Bradley Rust Gray's 2003 Salt. "The theme of men on the run could be found in Westerns as well as film noir," he says. It seems Fukunaga, 31, is an intuitive filmmaker, not all that comfortable spelling out the deeper themes or motives. In Sin Nombre, it's what's up front that counts.
For a young, first-time feature filmmaker, Fukunaga has succeeded at reconciling the tragedy and beauty of life on the run. The movie contains multitudes: pearlescent dawn shots of smoking volcanoes, barrios seen from the crowded top of a freight train, sleeper who loops his belt on a railing so he won't fall off when he sleeps.
We're in the company of immigrants who carry cell phones but are still reduced to drinking ditchwater. There are lyrical interludes of refuge at stops along the rail yards where the travelers bathe and are fed. On the railroad trackside, there are locals with offerings of fruit; sometimes they carry rocks to throw.
This passionately told and moody film includes the horrific side of urban Mexican life, of gangsters with home-made iron shotguns, whose faces are blue with demonic tattoos. In their lost-boys clubhouse, they butcher their rivals and feed them to their pit bulls.
But the film's great moment of alienation actually takes place in the States. It's a shot, high up and wheeling, of a vast and vacant shopping-center parking lot at dawn, as inhospitable as the surface of Mars. It's rare we've seen the contrast of two separate worlds—the different sides of the border—made so clear and sharp. 
Explaining how he came up with the film's title, Fukunaga says, "During my research, when I was at the Mexican side of the Rio Grande, I saw these crosses without names, dedicated to those who didn't make it. I thought this was a very touching detail, about those who died trying to reach the American dream. The title refers to them—not only to the members of the gang who lose their real names when they go in."
It's interesting that this week there are two excellent movies about the immigrants' tale, Sin Nombre and Sugar. Both films counter the sometimes hysterical rhetoric of nativist politicians with the stories of decent people caught between a hard place and a border.

'Sin Nombre' opens on Friday, April 10, at the Rialto Cinemas Lakeside, 551 Summerfield Road, Santa Rosa. 707.525.4840.
Send a letter to the editor about this story.