04.08.09
home | north bay bohemian index | music & nightlife | band review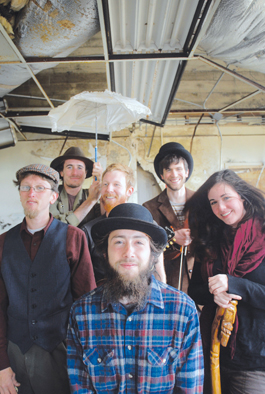 Photographg by Leila-Anne Cavé
CYCLES: The Crux release their debut album the same week they bid goodbye to the Boogie Room.
Barn Loyalists
Interdependent theatrics and the Crux
By Gabe Meline
The Crux belong in barns, clanging away with armloads of rusted chains, wailing through cheap electric bullhorns, hoisting ancient portable cassette players in the air and pressing play, pressing the buttons half-sewn onto last century's dresses and defrocking the eternal mystery of theater.
For the past two years, the Crux, from Santa Rosa, have perfected their Doc-Watson-by-way-of-Joe-Strummer outpourings in all manner of places: pubs, parties, theaters. But the barns where they where born and where they belong most—the barns whose splintery wood grain echoes with countless shanties, cobblestones, murder ballads and bloodied lace—those barns are destined for goodbye. The conception, the aspiration, the curettage.
The Boogie Room, the latest barn soon to bid farewell, hosts the most bittersweet of the Crux's CD release shows this weekend for their debut album, Now, Ferment. No other band defined the spirit of the Boogie Room quite like the Crux, and it's fitting that their album comes out in the same week the under-the-radar DIY venue closes down. Now, Ferment is the Crux's child, just as they are the Boogie Room's child, and grandparent will have one chance to welcome kin into the world before shuffling off.
"I think we grew together, in a big way," says the Crux's Josh Stithem, age 26, sitting on the railroad tracks one recent morning. "Maybe the Boogie Room's the womb, or maybe it's our twin in the womb . . . Our relationship is pretty deep."
That relationship fostered the Boogie Room's Insect Carnival, where during each annual three-day festival Stithem and 22-year-old band mate Tim Dixon presented a holy-rolling barn revival by donning white robes, lighting candles and shouting a crazed sermon of repentance and redemption backed by a 10-member choir. Limber backs would bend backward toward the roof beams, arms shaking, heads baptized with water. Was it real? Was it a mockery? "We find the sacred in the profane," is all Stithem says.
The Crux began when Stithem and Dixon met working at Sonoma County Conservation Action, and for six months before their first rehearsal they'd discuss creating a traveling vaudevillian troupe of music, theater and circus performance. "When we started," Dixon says, "we were like, OK, here's a couple chords, and we'll go up and do whatever the hell onstage."
Now, Ferment compiles that rudimentary energy with all of the atmosphere of ancient, creaking buildings. Adam LaBelle's booming bass drum, as if from some other side of a long, abandoned naval base, punches and uppercuts Stithem's story of black picket fences and bronze sculptures in "The Loyalist." Rebels and lovers sound false alarms with Zoe Kessler's haunting, musical saw–like vocals: "I've missed you ever since you left home," she sings like a terrestrial siren, and, again, "I've missed you ever since you left home."
Backed by banjo, upright bass, horns, accordion and guitar, the Crux's lyrics are just as quick to criticize society ("For a good investment, buy stock in prison cells / Because felonies are Champagne bubbles for our boys on Capitol Hill") as they are to invoke bizarre interpretations of the dead ("Marlene Dietrich had a copper groin").
"One weekend," Dixon posits, "we'll play a Pyrate Punx show where there'll be a bunch of drunk punks, and the next weekend we'll be at a know-your-neighborhood community-organizing event with a bunch of middle-aged activists, drinking wine and eating cheese." The variety isn't an accident, but rather a result of the band's ideal of artists as connectors, of intersecting paths, of, as it were, a crux. "Being an independent artist doesn't mean you're cut off from the community," says Stithem. "It means you know how to interact with your environment."
The Crux belong in barns, but they sit here this morning on the railroad tracks, talking about what comes next. Evidently, it involves constructing the barn planks into a ship. "And after the pirate ship," Stithem explains, "we settle in a small town that's corrupt, with detectives." Dixon chimes in. They've discussed this. "It's kind of film-noir, '30s jazz-type stuff meets modern, inner-city hip-hop."
"Yeah," offers Stithem, "we know we're gonna crash-land into the harbor of Carnegie eventually, but currently we're going from island to island."
The Crux play with Pete Bernhart from the Devil Makes Three on Saturday, April 10, at the Last Record Store, (1899-A Mendocino Ave., Santa Rosa. 3pm. Free. 707.525.1963); at the Boogie Room and Gardens in rural Santa Rosa (www.myspace.com/theboogierooom. 8pm. $5); and on Sunday, April 11, at the Toad in the Hole Pub (116 Fifth St., Santa Rosa. 8pm. $5. 707.544.8623).
Send a letter to the editor about this story.