04.08.09
home | north bay bohemian index | sonoma, napa, marin county restaurants | review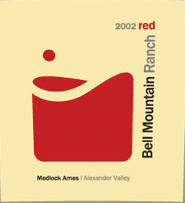 Moving House?
By Gretchen Giles
As reported earlier in these pages ("Tempest in a Beer Cup," March 4), the Medlock Ames Winery has purchased the century-old Alexander Valley Store and Bar. Closed for good on March 31, the store and adjacent bar inspired a fierce loyalty among regulars, many of whom treated the Medlock Ames folks like hostile takeover artists rather than devoted greenies who mildly purchased a property from an owner who was only too happy to hightail it off to warm and sandy climes.
Devoted to all things sustainable and organic, Medlock Ames now has a small problem on its hands: an early 1900s house entirely renovated in 2000 that no one wants. "We could demolish it and repurpose the materials, but we'd prefer to donate it," says Medlock Ames general manager Kenny Rochford. "We've put the word out and spoken to local landowners. There's been a little bit of interest, but the expense of moving a house may be prohibitive." How prohibitive? Rochford gives a short laugh, his native Scottish accent burring. "Well, the last estimate I got was $50,000 to move the house within a five-mile radius. But that was a few months ago, perhaps the economy has helped move that number down."
The winery aims to reopen the property on Aug. 1 with the former store newly refurbished as a tasting room, with local products showcased alongside the wine, and the bar a more modern spot that will open at 5pm just as the tasting room closes down. "We're moving the bar from the side of the building into the back and turning it into a locals speakeasy that tourists can discover as well," Rochford says. "We'd love to be able to provide farm-fresh produce from the ranch as well as other local providers. Let's stock some [Taverna Santi chef Dino Bugica's] salumi. It will be a taste of the valley, a dozen eggs from the neighbor down the street. A seasonal snapshot of what the valley produces—that's what we're after."
But for now, Rochford needs to get back to work. "The opening is fast approaching. I was looking at the calendar yesterday and starting to have a small panic attack," he says. "There are so many things guaranteed to go wrong."
For information on taking the house donation on offer, call 707.431.8845.
Send a letter to the editor about this story.