04.08.09
home | north bay bohemian index | the arts | stage | review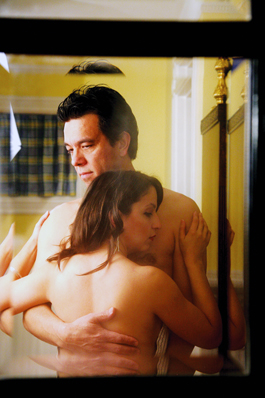 Photograph by Eric Chazankin
STRIPPED: Denise Elia and David Yen tackle 'Room''s complications.
Multiple Oh's
Two actors play 10 cheaters in sexually charged 'Blue Room'
By David Templeton
An actor's job—to put it rather crudely and simplistically—is to become other people, to do that as effectively and deeply as possible," says David Lear, director of David Hare's The Blue Room, which opened last weekend in the Studio at Santa Rosa's Sixth Street Playhouse. "What's so exciting about this piece is that it gives these two exceptional actors an opportunity to do that on a very deep level, by creating and embodying several characters each. The creative opportunities are multiplied. It's a very demanding piece for the actors, which is why I'm so thrilled to have such fine actors as collaborators."
The actors to whom Lear is referring are Denise Elia, who has successfully dabbled in multiple-character work in last year's one-woman Nine Parts of Desire, and David Yen, who caused a bit of a sensation last winter with his one-man staging of David Sedaris' The Santa Land Diaries. With The Blue Room, playwright Hare's adaptation of Arthur Schnitzler's controversial 1900 play Der Reigen, Hare has enhanced the opportunity for multiple characterizations by reconstructing the play, originally written for 10 actors, so that its wildly varied characters are played by just two performers, one male, one female.
The scandalous aspect of the play, which led to Schnitzler being denounced as a pornographer, is the way the play's 10 distinct scenes flow from one to the next. Each scene portrays the moments just before or after a sexual encounter, with one member of each couple ending up in the next scene, having sex with a different person, who ends up in the following scene having sex with yet another person, until the whole thing comes back around to one of the first characters.
It is believed that Schnitzler's original intentions for the play, which he claimed to have written only for distribution among his friends, was to show how venereal disease is passed up and down the social ladder. In Hare's version, there is no mention of disease. According to Lear, the emphasis is more philosophically aggressive, exploring the way people lie to one another, and to themselves, and the rich spectrum of motivations that stand behind such deceptions.
"What's so appealing to me about this play," says Elia, "is that, as an actor, I have to be very, very clear in my portrayal of each of these characters. They are all very different from each other, so there's one challenge. In the first scene, I get to play a young girl just starting out as a prostitute, and later in the show, I'm a very wealthy woman having an affair with a younger man, so I have to make strong choices to make each character distinct."
"The other [part of the process] that is so challenging," Yen says, " is that we each play five characters twice, each time in a different scene with a different partner, and in each one that character we play is lying, they're putting on a fake fašade, so in a way we're each playing more than five characters, because each of them, in a way, is 'playing a part' with the other.
"That," he laughs, "is incredibly complicated to figure out. How do I give each of these characters their own recognizable characteristics, even when that character is trying to put on an act? It's not easy, but as an actor, it's very, very satisfying."
"I feel that as an actor," Elia adds, "I've never had to work so hard to define my characters' physicality, their voices, their reactions. In Nine Parts of Desire, I learned to slip back and forth between characters, but I was all alone onstage. In The Blue Room, I get to take that to the next level, because I also have to react, in character, to whatever David is doing. It's just so exciting," she laughs, "and so fun—and so hard!"
"But they don't make it look hard," Lear says, "and that's why I feel so privileged to be working with David and Denise on this. When I first read the script, I immediately thought of them, and it's only been them, in my mind, ever since. When our audiences finally get to see what they've accomplished with this piece, I think everyone will understand why."
'The Blue Room' runs Friday–Sunday through April 26 in the Studio at the Sixth Street Playhouse. Friday–Saturday at 8pm; Sunday at 2pm. $14–$20. 52 W. Sixth St., Santa Rosa. 707.523.4185.
Send a letter to the editor about this story.