04.08.09
home | north bay bohemian index | columns | wine tasting room of the week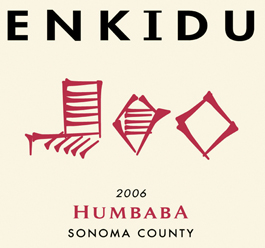 Enkidu Wines
By James Knight
One recent afternoon, unshaven and unshorn, I caught wind of a brand new tasting room in the east, and made across the fields—toward Enkidu. Rather taken with myth, winemaker Phillip Staehle named this project for a character who played a supporting role in the ancient Sumerian epic of Gilgamesh. Enkidu ("EN-kee-doo") was an original wild man, with "hair as long as a woman's," created by the gods as protector of the animals. This proved unsatisfactory to local hunters, until a wise man suggested they try a sort of soft-pedal counterinsurgency. Thus conquered by love, Enkidu joined civilization in what is modern-day southern Iraq, teamed up with king Gilgamesh and embarked upon epic adventures.
If we allow for a Joseph Campbell moment, the connection becomes clear: the vine was a wild thing of the forest that's long been tamed. We may wax on about the precocious grape, but it's as loyal to the service of our pleasure as old Enkidu to his king. Never mind about the whole underworld of the dead part of the story; that comes later.
Enkidu the winery was created to focus on Rhône-style Syrah and Petite Sirah. Conveniently located in Kenwood Village shopping center, the tasting room was as cool and softly lit as a cellar on a recent afternoon; future plans include a by-the-glass menu and courtyard tables. The hostess is a wine-family local, as well versed in the grape as in The Epic of Gilgamesh, having been made to read it 10 times in high school.
Best reason to stop by sooner than later: the 2007 Shamhat Russian River Valley Rosé ($5) is named for the woman variously described as temple harlot (church socials must have been a lot different back then) or, more poetically, love priestess, who was enlisted to seduce and domesticate Enkidu. Yup, $5 per bottle, and there's nothing wrong with this pink; they're just clearing out the 2007 to make room for the fresh 2008. With light strawberry-raspberry fruit, a hint of green in the middle like candy-dipped celery and a firm, dry finish, it's a more than serviceable springtime rosé.
The 2007 Sonoma Coast Pinot Noir ($28), with allspice aromas and a soft silky body, is more than equally inviting. Forward spice meets black olives and rich tannins in the 2005 Odyssey Russian River Valley Syrah ($34). Dark and intense with overtones of purple paint now, I wonder if a longer interlude in the bottle will have a civilizing effect. It's said it's the mark of civilization to delay gratification.
The 2006 Humbaba Sonoma County Rhône Blend ($25) smells of animal crackers and nutmeg, with the Petite's blackberry acidity complementing the Syrah's earthiness. While Enkidu was in the employ of Gilgamesh, a bout of unfortunate bombast led them to slay hapless protector of the forest Humbaba—and the Bull of Heaven, to boot. The gods were displeased, and Enkidu took the fall. He was thereupon condemned for eternity, sending Gilgamesh doleful tweets from the underworld. Seems like Enkidu got a somewhat raw deal overall, except, well, for the love priestess.
Enkidu Tasting Room, 8910 Sonoma Hwy., Kenwood. Open 11am–6pm Tuesday–Sunday. Tasting fee $10. 707.939.3930.
Send a letter to the editor about this story.