04.09.08
home | north bay bohemian index | the arts | books | review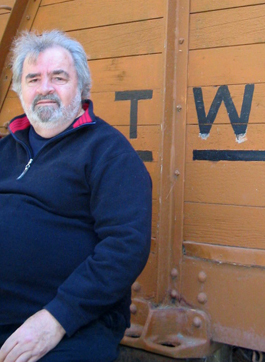 Photograph by Gabe Meline
Hi-Hat: Drummer-author Bill Moody and his boxcar.
Clue Note
The jazz rhythms of Bill Moody's mystery series
By Gabe Meline
Bill Moody's newest mystery novel, Shades of Blue (Poisoned Pen Press; $24.95), is a delight for all jazz fans, but especially North Bay jazz fans. Evan Horne, a jazz pianist living in Monte Rio, inherits the estate of his mentor, who secretly kept in his personal sheet music what appear to be original charts for Miles Davis' seminal Birth of the Cool album. By piecing together photos, old correspondence and tracking down fellow jazzmen, Horne sets out to answer the glaring question: Did Miles steal the songs and call them his own?
Across the pages, the rhythms of jazz permeate. A recording session with veteran drummer Roy Haynes plays a part, and Horne picks up gigs here and there, playing standards like "On Green Dolphin Street." Moody's dialogue bristles with references to famous albums, and even the small details matter: a basset hound, for instance, is named Milton, after the famed Harlem nightclub where bebop was born.
Moody, a jazz drummer, lived in Monte Rio for many years, and he offers a delightfully crisp view of the area through fresh eyes. River Road, the Pink Elephant, the Rio Theater and the Northwood Golf Course are all woven into the book, and Moody's description of Russian River life is perfect: "a varied blend of artists, writers, musicians, old hippies trying to hang on to the days of Haight-Ashbury, a significant gay population, a share of good ole' boys with pickup trucks and dogs, and a small drug culture. It's a strange mix, but so far, everyone seems to get along."
Moody's new digs are just as interesting. He currently resides in a remodeled boxcar east of the town of Sonoma. It's everything a writer's haven should be—remote, small and quiet—and when he meets me at the gate, he's lounging in black sweats and a thin gold chain. We sit at a small table, Moody fires up a Basic Light and talks about the corollaries between jazz and writing.
"In jazz, you're improvising, and you don't know what you're going to play until you play it, but you have the framework of the song," he explains. "I'm constantly surprised at how the books turn out. If I outlined the whole book from start to finish, I don't think I'd wanna write the book, 'cause I'd already know everything about it already."
Shades of Blue is the sixth in the Evan Horne series. In the past, Moody's written about a serial killer of smooth-jazz artists (Bird Lives! ), the mysterious death of Chet Baker (Looking for Chet Baker) and the lost recordings of Clifford Brown (Sound of the Trumpet). Moody's personal expertise with music informs his narratives with a page-turning mix of fictional riffing and accurate research, the real-life questions surrounding Birth of the Cool being a perfect example.
"I worked with Red Mitchell in Sweden, and he was part of the Birth of the Cool rehearsal band," Moody says. "Red said there were alot of different personnel coming in with little scraps of paper with notes written out, and Gil Evans or Miles or somebody would take it and use it."
Mysteries abound in the jazz world, and Moody receives story suggestions constantly, such as the unsolved case of Albert Ayler, the saxophonist who died at the bottom of the East River in handcuffs. Moody lights up with recognition at Ayler's story but rues the commercial limitations. "The problem with somebody like Albert Ayler is that nobody knows who Albert Ayler was," he shrugs. "I try to pick people who have some interest to a more general population."
Between playing a few weekly club dates with small combos, Moody's seeing his novels translated and printed in Germany, France and Bulgaria. Looking for Chet Baker has even been optioned in Hollywood for Dennis Hopper, a friend of Baker's, to direct, a testament not only to Moody's evocative historical sense but to the author's unique place in literature.
"After this long," Moody points out, "there's still nobody else doing this, writing anything about jazz with an actual jazz-musician amateur sleuth."
Bill Moody performs songs from 'Birth of the Cool' with Graham Bruce's combo and discusses 'Shades of Blue' on Saturday, April 12, at COPIA, 500 First St., Napa. 8pm. $20. 707.259.1600.
Send a letter to the editor about this story.