April 12-18, 2006
home | the papers | north bay bohemian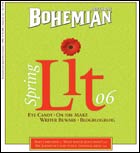 O'Reilly's MAKE Magazine
Refashionable: Sebastopol company publishes a new way to take everything apart.

News: Children's dental health worst in California
More than diabetes and obesity, dental health is the No. 1 enemy of children in Sonoma, Marin and Napa counties.
News Briefs: Sonoma Valley Hospital saved from eminent domain
Last-minute negotations find new site for hospital.
News Column: Peter Byrne. Is Jim Ross spinning Sonoma and Marin candidate Damon Connolly?
The Byrne Report considers the spectacle of political spin in the Sonoma-Marin Sixth District.

Car Culture: Cheap gas in Hugo Chavez's Venezuela is an engine for growth
Chavez builds a country on oil revenues and that may be a good thing.

Movie Interview: Da Vinci's Last Supper on film
Author Javier Sierra looks for Leonardo da Vinci's 'Supper' in 'The Greatest Story Ever Told,' 'Jesus Christ Superstar' and 'The Last Temptation.'
Movie Review: 'Brick'
Rian Johnson's 'Brick' a film noir for the high school set.

MORE MOVIE REVIEWS

MOVIE TIMES

Music Review: The Devil and Daniel Johnston
Protecting Daniel Johnston at the strange apex of his popularity.
Music Review: Willie Nelson to Williams III to the Little Willies
Looking for the standard in country music standards. Neko Case may be the winner.

MORE NIGHTLIFE

NIGHTLIFE LISTINGS

NIGHTLIFE CALENDAR PICKS

Food Essay: New food magazines from Rachael Ray to Paula Deen and everywhere in between
Rounding up the new crop of cooking magazines.
Restaurant Review: Sebastopol Brewing Company
Thank goodness that suds and fries are safe again in Sebastopol!
Food News: James Beard Foundation nominees from Sonoma and Napa
Cowgirl Creamery, the French Laundry, Leslie Sbrocco and many others vie for prestigious awards.

BOOK A RESTAURANT RESERVATION

FIND A RESTAURANT REVIEW

Books Blogs: Tracking writer's blogs
Freed from editors and page restrictions, literature blooms on the Web.
Books Essay: F. Scott Fitzgerald and Stephen King both know the terror of the writer's room
So you think you wanna be a writer? Think again.
Books Events: Literary happenings in Sonoma, Marin and Napa counties
Poetry notes, upcoming events and books by Wine Country writers.