04.06.11
home | north bay bohemian index | movies | current reviews | film review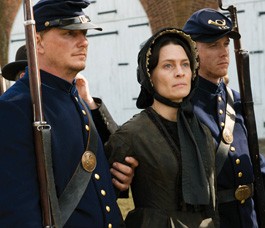 LED AWAY:
Robin Wright plays Mary Surratt in Robert Redford's new film.
Top-Hat Torture
Modern-day parallels to Lincoln assassination in 'The Conspirator'
By Richard von Busack
The new film from Robert Redford, The Conspirator, concerns a shameful episode from 1865 that deserves to be remembered. After the Lincoln assassination, John Wilkes Booth's accused accessories are rounded up. Caught in the dragnet is one female prisoner, the landlady Mrs. Mary Surratt (Robin Wright), a 42-year-old woman whose son had been in cahoots with Booth. Kept dungeoned, the woman "who kept the nest that hatched the egg" refuses to inform.
Wright underplays the part of this suffering prisoner with Scandinavian movie simplicity. Surratt is defended by Maryland senator Reverdy Johnson (Tom Wilkinson), assisted by Frederick Aiken, a veteran; he's played by James McAvoy, filling the underwritten outline of the part with little enthusiasm. Despite the viewer's hopes, Wilkinson rolls out of the picture, and as the prosecutor, Danny Huston seems ready for some kind of deviltry—which never happens.
The movie rarely leaves the dungeon. The murky would-be Daguerreotype photography and the mutter of voices makes The Conspirator a movie for those with sleep disorders to avoid. The script tells us about the ambient fear and rage in America circa 1865, but the visuals don't convey the sense of a state of emergency, or even of post-war shock.
And is this movie about 1865, anyway? Throughout the trial of Mrs. Surratt, we can feel Redford whispering in our ears: "Stanton is like Cheney, no? This suspension of rights . . . Remarkable how it anticipates Gitmo. Military tribunals, this hooding of prisoners, like Abu Ghraib. Did you notice the parallels?"
We do, but the parallels aren't enough to make this stumbling and verbose film breathe completely.
'The Conspirator' opens April 15 at Summerfield Cinemas. 551 Summerfield Road, Santa Rosa. 707.522.0719.
Send a letter to the editor about this story.