April 18-24, 2007
home | north bay bohemian index | the arts | stage | preview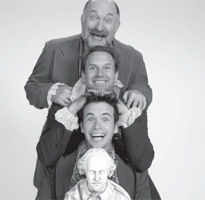 Short shakes: The Marin Shakespeare Fest kicks off with the Bard '(abridged)' this July.
Season Greetings
The first round of theater companies announce their upcoming seasons
By David Templeton
For those of us who feel their pulses quicken whenever someone asks them to turn off their cell phones and consider becoming a subscriber, spring is one of the most exciting times of the year.
This is the time of year when we theater lovers can begin to dream of plays to come, to anticipate and make educated guesses about those rare dramas and old musicals and fresh comedies that will be launched before us next year. This is when many North Bay theater companies make their final decisions, take deep breaths and publicly release the lineup of shows for the upcoming season, in this case, the 2007-2008 season. The fact that most theater companies don't begin their seasons until the fall does not curb the enthusiastic uproar we feel when theater folk begin to announce their future plans in April and May.
In the 2007-2008 season, Santa Rosa's ever-evolving Sixth Street Playhouse will finally drop its dual identities as Actors Theatre and the Santa Rosa Players and just be the plain old Sixth Street Playhouse. The recently announced schedule of plays looks to be another somewhat safe balance of new and old musicals, original plays and fresh spins on old classics.
That said, Sixth Street has also announced something unexpected: a brand-new second venue, a smallish studio theater, to be constructed in the adjacent dance center. The studio will be devoted to the kind of small experimental shows that Actors Theatre (can we still say that name?) originally made its reputation with.
Next, executive director Beth Craven will chase the ghost of Tom Joad in John Steinbeck's Grapes of Wrath, and in a co-production with the Sonoma County Repertory Theater, Ken Sonkin will direct Jason Robert Brown's super-popular two-person musical The Last Five Years (which the Rep will also stage as part of its current season). The rest of the main-stage lineup includes Ashman and Menken's Little Shop of Horrors, David Mamet's seldom-seen, turn-of-the-century lesbian drama Boston Marriage, the classic Depression-era musical 42nd Street and the relatively new comedy Leading Ladies by Ken Ludwig (author of Lend Me Tenor, Moon Over Buffalo and Shakespeare in Hollywood).
In the intimate, new black-boxish studio theater, Sixth Street will offer a separate "studio series" of plays, including Becky Mode's one-person comedy Fully Committed, Robert Reich's political comedy Public Exposure and two other works yet to be announced, one of which is expected to be another David Mamet piece.
Now in the hands of new artistic director Jasson Minadakis, the Marin Theater Company has been tinkering with its 2007-2008 schedule, but at last report, Minadakis' first season as the guy who chooses the plays will begin with John Kolvenbach's offbeat romantic comedy Love Song. The year continues with John Strand's cross-dressing swashbuckler Lovers and Executioners, the West Coast premiere of Kenneth Lin's philosophical drama . . . ," said Saïd, a mounting of Tennessee Williams' Streetcar Named Desire and with two other plays yet to be decided.
"Yet to be Decided" describes some of the plucky Ross Valley Players upcoming schedule, which opens May 11 with Steve Martin's adaptation of a German play, The Underpants. In another example of inter-theater talent sharing, Sixth Street's Argo Thompson will commute to Ross to direct Fully Committed, opening July 13, before bringing the same show to his house.
Porchlight Theatre Company launches Enchanted April June 22 at the Marin Art & Garden Center and the Marin Shakespeare Festival blasts off this July with the always-popular Complete Works of William Shakespeare (abridged). (Note: this show opens on the same day as the Sonoma County Repertory Theatre's outdoor production of The Bible: The Complete Word of God (abridged).) The rest of the festival is filled out (in so many ways) by simultaneous productions of Shakespeare's Henry IV parts one and two, featuring Stephen Reynolds as the rotund con man Sir John Falstaff.
Talking of Shakespeare, the eccentric and innovative Shakespeare at Stinson Beach, is being forced from Stinson Beach after 14 years due to a disagreement with the town regarding portable toilets, or something. SAS director Jeffrey Trotter recently announced that the company will be moving to the outdoor amphitheatre in Novato's refurbished Hamilton Air Force base; beginning mid-August, the only show to be announced so far, will be Twelfth Night, fitting enough given that Shakespeare's funniest comedy is all about being displaced.
With no announcements as yet from Sonoma County's only Equity company, the Pacific Alliance Stage Company holding forth at the Spreckels Performing Arts Center, likewise for the mighty Cinnabar Theatre in Petaluma (about to open its own version of Enchanted April), we jump back to the Sonoma County Rep, one of two North Bay companies that follows a January-to-December season instead of the traditional fall to summer approach. After this summer's Shakespeare Festival in Ives Park (pairing the reduced Bible show with the enduring let's-go-be-hippies-in-the-forest comedy As You Like It), the Rep will rip into a Northern California premiere, the new stage adaptation of Mitch Albom's bestselling Tuesdays with Morrie.
The North Bay's other January-August company is Napa's Dreamweavers Theatre, getting ready to give us Edward Albee's fantastical Seascape beginning in June, followed by yet another production of David Auburn's overburdened Proof (Monte Rio's Pegasus Theatre opens the same play this weekend). Rounding out the season is Ivan Menchell's Cemetery Club and the little seen Answers by On Golden Pond's Ernest Thompson.
Send a letter to the editor about this story.