April 19-25, 2006
home | the papers | north bay bohemian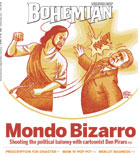 Growing Medical Marijuana: Three North Coast Stories
In the wake of California's Prop 215, small marijuana operations have flourished. But don't ask if they're in it for the money.

News: Understanding Medicare Prescription Changes
With her aged in-laws sharing her Sonoma home, one writer learns the ins and outs of new Medicare prescription laws.
News Briefs: Geyserville Bridge, Guerneville charity and Calistoga cemetery
CalTrans promises a new span by summer, the Sisters of Perpetual Indulgence indulge indeed and tracing the mystery of Calistoga's missing markers.
News Column: Peter Byrne. Santa Rosa immigration protests
A peaceful gathering of thousands prompts the question: Where are all the white people?

Car Culture: Driving wet roads in Sonoma, Napa and Marin
Rainy days and mudslides always get Novella down.

Movie Review: 'Darfur Diaries'
Documentary film on the genocide in Darfur offers dark lessons.

MORE MOVIE REVIEWS

MOVIE TIMES

Music Interview: Audrey Auld Mezera
Mezera teams up with Nina Gerber for a new live disc, 'In the House.'

MORE NIGHTLIFE

NIGHTLIFE LISTINGS

NIGHTLIFE CALENDAR PICKS

Wine News: Swanson Vineyards in Oakville makes Merlot good again
While a lot--and we mean a lot--of Merlot is substandard, some vineyards make the varietal shine.
Restaurant Review: Fujiya in Napa
With sushi scarce in the Napa Valley, Fujiya is a welcome respite from Wine Country fare.
Restaurant News: Earth Day dinners in Marin and Sonoma
North Bay restaurants that celebrate the earth at the table.

BOOK A RESTAURANT RESERVATION

FIND A RESTAURANT REVIEW

Cartoonist Dan Piraro's 'Bizarro' world
Crusading vegan, political satirist, fringe festival scion--Piraro is more than just 'Bizarro.'
Books: Allen Ginsberg's 'Howl' turns 50
How one poem changed a young man's life.
Stage: Sonoma writer Shann Nix tackles 'Alice in Wonderland'
What's it like to be famous not for what you've done but who you are? A new musical examines 'Alice.'