April 26-May 2, 2006
home | the papers | north bay bohemian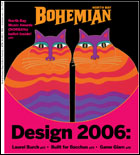 Cover Story: Marin County Designer Laurel Burch
Her iconic images adorn everything from earlobes to walls. This one-woman cottage industry is even more amazing given her lifelong fight against osteopetrosis.
Architecture: Winery design in Napa and Sonoma counties
Are architects and owners building tasting rooms or temples to Bacchus?
Gaming: Free online games
Sometimes the best design is in the gratis games.

News: California gubernatorial candidate Steve Westly
He was Schwarzenegger's best ally and now he may be his best rival for the governship of California.
News Briefs: Waiting for Bush, a St. Helena street party
Sipping wine, running into old friends, hanging out with the neighbors--waiting for President Bush, Napa County-style.
Opinion: Scaling politic's money pyramid
Dennis Hastert and Nancy Pelosi don't need donations, but they take the money anyway, ensuring that it trickles down to other interests.

Car Culture: Shale and coal, oh my!
Don't be fooled, the so-called 'clean' options of mining to make car fuel are dirty in every way.

Movie Review: 'Mountain Patrol: Kekexili'
Once upon a time in the East.

MORE MOVIE REVIEWS

MOVIE TIMES

Music Essay: From Steve Gourmet to the Spice Girls, bad music rules
One woman's obsession with bad tunes, as refreshing as a tepid glass of tap water.
Music Preview: A cappella shines at Marin's Harmony Sweepstakes
The mother of all sing-alongs comes to the Marin Center.
Music Preview: Sigur Rós
Iceland's high priests of cool come to the Marin Center.

MORE NIGHTLIFE

NIGHTLIFE LISTINGS

NIGHTLIFE CALENDAR PICKS

Restaurant Review: 154, Vietnamese cuisine in Petaluma
154 presents like nouvelle cuisine but tastes like the authentic thing.
Restaurant Profile: Sonoma's Wine Exchange a great place to get a beer
With hundreds of Sonoma and Napa valley wines in stock, Sonoma Wine Exchange draws an excellent ale.
Wine: Sonoma State University students learn the fine art of wine
SSU's wine club is the university's most popular must-do event.
Locavores in Sonoma, Marin and Napa counties
Locavores dare you to eat only that food raised within a 100-mile radius of your home. Is it possible?

BOOK A RESTAURANT RESERVATION

FIND A RESTAURANT REVIEW

Preview: Poets James Cushing and Michael C. Ford
The Bottled Poetry series continues at Clos Pegase Winery.
Museum Review: 'Forces of Nature' at Sonoma County Museum
The best part of this exhibit is that which you can't even see.
Stage Profile: Elizabeth Craven takes over Santa Rosa's Sixth Street Playhouse
Changes in the North Bay theater world promise an invigorated future.