May 3-9, 2006
home | the papers | north bay bohemian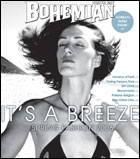 Fashion: Growing up at Parsons Paris
Brett Ascarelli's wonderful, horrible year of despair and design.
Fashion: Sonoma County designers shine at Moxie
Santa Rosa store showcases young designers whose work is all sass and sizzle.
Fashion: Healdsburg and the Mona Lisa?
Monamania comes to Clutch courtesy of Icon's masterpiece-influenced footwear and purses.
Fashion: Take Jeff Koons and Rei Kawakubo, please
Art and fashion--a cannibal's tale.
Fashion: Dressing for Sonoma County's cyclocross and a date
Bike chick chic beyond the mud course and on to the dessert course.

News: White sturgeon vanishing from the San Francisco Bay Area
Whether it's merely a natural trend or the result of poor fishery practices, the white sturgeon is diminishing.
News Briefs: Santa Rosa woman lands essay on NPR's 'This I Believe'
Elvia Bautista reflects on her brothers senseless gang death, mourning both the blue and the red.

Column: Peter Byrne. Petaluma candidate Cynthia Murray
Following the money in the Sonoma-Marin Sixth Assembly race.
Car Culture: Insuring California's poorest drivers
The very poor have assets, too. It's called 'family.'

Movie Review: Deepa Mehta's 'Water'
Abandoned by their families, their heads shaved in shame, widows in pre-Gandhi India strive to find dignity and love.

MORE MOVIE REVIEWS

SONOMA COUNTY / NAPA COUNTY / MARIN COUNTY MOVIE TIMES

Music Review: 'Miles Davis Quintet: The Legendary Prestige Quintet Series'
New release proves that there are miles yet to go with Davis' oeuvre.

MORE NIGHTLIFE

NIGHTLIFE LISTINGS

NIGHTLIFE CALENDAR PICKS

Restaurant Review: Cindy's Backstreet Kitchen in St. Helena
Superstar chef Cindy Pawlcyn's relaxed excellence shines in her food of the Americas.
Profile: Marion Nestle and Clark Wolf at COPIA
Renowned nutritionist Marion Nestle and restaurant consultant Clark Wolf launch NYU Critcial Topics series in Napa.
Restaurant Watch: Cyrus at the Les Mars Hotel in Healdsburg
How many times can one newspaper write about just one excellent new restaurant? More than you might image.
Food Essay: Poor nutrition in California school lunches
Tater Tots and soda do not a meal make.

BOOK A RESTAURANT RESERVATION

FIND A RESTAURANT REVIEW

History: Italian-American internment in Marin County
The secret history: When it was a crime to be Italian in California.
Stage Review: 'The Smell of the Kill' at Santa Rosa's Sixth Street Playhouse
Actor's Theater may have the hit of the year on their hands.