May 10-16, 2006
home | north bay bohemian index | the arts | stage | review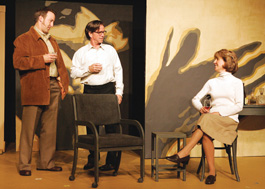 Pinter Pointers: Dodds Delzell, Scott Phillips and Jennifer King star in 'Betrayal.'
Liar, Liar
The Rep finds the ugly truth in Pinter's 'Betrayal'
By David Templeton
Some of the best modern playwrights--Tony Kushner, Wendy Wasserstein, Terrence McNally, Sam Shepard--work in the arena of the emotions, dealing out targeted punches to the gut with every new play. Harold Pinter, on the other hand, is not a writer whose work tends to wallop audiences in the gut so much as whack them upside the head. From Pinter, one expects the exhilaration and stimulation that comes from having to think a little, or maybe a lot, and with him, one usually gets what one expects.
Betrayal (1978), now running through June 4 at the Sonoma County Repertory Theatre, is among Pinter's most popular and frequently staged works. (Pacific Alliance Stage Company, in Rohnert Park, has just announced that it will open its 2006-2007 season with it in September.) For those unacquainted with Pinter, this is an excellent place to start.
The new production, under the direction of returning associate artist Sharon Winegar (of Nevada City's award-winning Foothill Theatre Company), is solidly mounted, impeccably paced, inventively staged, and boasts a first-rate cast of Rep all-stars: artistic director Scott Phillips; veteran actor Dodds Delzell; and executive director Jennifer King. King gives an especially strong performance as a woman caught between her love of two very different men.
The play begins in a pub in the spring of 1977, two years after art gallery owner Emma (King) has ended her affair with literary agent Jerry (Delzell), the best friend of London book publisher Robert (Phillips), her husband. As written by Pinter and staged by Winegar, this initial encounter--in which Emma meets Jerry to tell him her marriage is finally over (and that she recently came clean with Robert about the affair)--is built upon dialogue that crackles with layers of potent, unspoken sentiment. "I thought of you the other day," Emma matter-of-factly informs Jerry, who, gulping nervously at a pint of beer, responds, "Good God, why?" "It's nice to think back, now and then," she says, with a long pause before adding, quietly, "Isn't it?"
Betrayal, in many ways, is a play about thinking back, an exploration of the lies and little betrayals that undo the knottiest of relationships. Pinter creates a sense of mystery and tension by frequently sending the story back a month or a year or more, as if starting a movie at the end of the tape, and then rewinding every 15 minutes or so until finally reaching the beginning. What we get, therefore, is the aftermath of a failed marriage and a sad affair, and then we see, in reverse sequence, what went wrong and, ultimately, how it all began.
The entire cast is strong (mention should be given to Samson Hood, who appears briefly as a detail-oriented waiter), willing to play to their character's many weaknesses and individual shades of selfishness, neediness and hurt. As Jerry, Delzell shows us a man who is not as bright or as decent as he thinks he is, and his reverse trajectory from awkwardly vain middle age to confidently lustful suitor is astonishing.
King is excellent at playing the pain and disappointment that surges below her well-tailored surface, and Phillips plays Robert as part Henry Higgins and part Snidely Whiplash--a smart, heartbroken man who reacts to being betrayed by making an art out of barely detectable (but viciously pointed) verbal cruelty.
Special mention should go to Conrad Bishop for his beautiful shifting-panel set, a series of paintings of hands (clasping and apart) that are moved around during the tightly choreographed, balletlike set changes. Under Winegar's intelligent direction, even the set changes are well-conceived; underscored with moody music and atmospherically lit, the breaks give the audience a much-needed moment to sit and think--and that, after all, is what Pinter is all about.
'Betrayal' runs through June 4; Thursday-Saturday at 8pm; June 4 at 2pm; Thursday, pay what you can. Sonoma County Repertory Theatre, 104 N. Main St., Sebastopol. $15-$20. 707.823.0177.
Send a letter to the editor about this story.