May 10-16, 2006
home | north bay bohemian index | sonoma, napa, marin county restaurants | review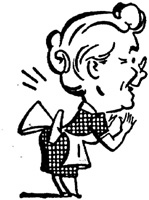 Cookit
Mom's Meal
By Gretchen Giles
Does weird food cheer mom up? Not necessarily, unless by "weird" we are here defining caviar, beef cheeks, oysters and whiffy triple-crème cheeses. If so, then allow us to speak boldly for mom: She's all-over weird--serve it up early and serve it up often. You could even serve it this May 14, on Mother's Day.
But if by "weird" we were instead to whisper two words that form a sort of jazz poem--breakfast pizza--would the mom in your life shudder? Were she to taste it, we doubt it.
There are some type-A personalities who would insist on making their own pizza dough, but this is simply not necessary before the coffee's kicked in. In fact, there are no hard-and-fast rules to this unusual--OK, weird--morning comestible other than it be made with love and served with a hot fried egg on top. Yes, indeedy: one hot fried egg, made to order, per slice.
Begin with either homemade pizza dough (a doubled portion of the recipe in Pretend Soup, a cookbook for kids, remains a favorite) or the excellent fresh dough that Trader Joe's sells. Sprinkle some corn meal on a pizza pan or cookie sheet to keep the dough from sticking (or use that pizza stone you bought for mom last year) and make the dough somehow conform to shape. You're on your own with this one.
While one intrepid soul wrestles the dough, another is gently underfrying bacon, about four slices. Cook the bacon just halfway through, because when it goes back on the pizza, it will finish cooking, which is a really wonderful thing.
Someone else, preferably over the age of four, is wielding a knife to dice about half of a red onion and perhaps a clove of garlic, if your mom is like this mom. Once the bacon is removed from the pan, sautÈ the onions and garlic in the hot fat until softened, remove and set aside.
Meanwhile, someone with calloused knuckles is grating about a cup of whatever kind of white cheese might be in the fridge. A combination of Swiss and Parmesan was recently found to please.
Other than the pizza dough, the only other item to be considered in advance is fresh basil. The knife wielder will want to chop about six big leaves into thin ribbons and set aside.
Pour a small amount of olive oil in a bowl (if your mom is like this mom, crushing another clove of garlic into this oil makes for an excellent start to the day). Brush the oil over the wrassled dough shape. Sprinkle half the cheese over it. Spread on the onion mixture. Tear up the half-cooked bacon (this is the icky bit; make a grownup do it) and sprinkle artfully and--this is important--fairly over the top. Next, confetti down the ribbons of basil. Top with the rest of the cheese and cook in a hot oven, 450-500 degrees, for about 20 minutes.
While the pizza is doing its thing, retrieve one egg per person. Once the pizza crust is browned, remove from the oven and let rest. Heat the remaining bacon fat up (add butter if you must) and commence to cook one egg per slice. Cut the pizza, and top each slice with a yummy egg. The desired effect here is a piping hot egg whose yolk, when pierced, will run slightly down the slice o' pie that coddles it. Such rapture! And there's nothing weird in that at all.
Send a letter to the editor about this story.