May 10-16, 2006
home | north bay bohemian index | sonoma, napa, marin county restaurants | wine profile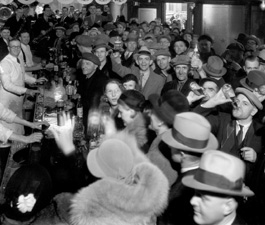 Courtesy Fauerbach Brewery
Feel of Repeal: When the Fauerbach Brewery's bar reopened, many patrons openly wept with joy. Meanwhile, everyone else was evidently drinking wine all along.
Speakeasy Writer
Thomas Pinney takes readers down America's long and winey road
By Brett Ascarelli
Thomas Pinney, who grew up in Kansas (a dry state until 1948) and was raised by teetotaling parents, is the unlikely author of the only historical account of wine in the United States. In fact, Pinney, a professor emeritus of Pomona College, did not even teach history during his lengthy academic career; he chaired the English department until 1997, specializing in Victorian literature and publishing volumes about George Eliot and Rudyard Kipling.
So how does wine fit in? Pinney just likes it. He still remembers his first gulp--a white Graves--that his buddy brought along on a college break trip to New Orleans. It was love at first sip. Pinney boned up on the subject, but after reading so many books about it, he figured it was time to contribute his own. "There were guides on how to enjoy wine and what wine to drink with what food, but there were no books on its [U.S.] history," he says, speaking eloquently by phone from his home in Claremont, a college town in Los Angeles County. "Mine is the very best on the subject," he laughs, "because it has no competition--there are no others."
Thus, A History of Wine in America: From Prohibition to the Present (University of California Press; $45)--the second in his two-volume series that began with the 1989 publication of A History of Wine in America: From the Beginnings to Prohibition--culminates what started as just a side research project in 1974. Pinney appears at the Sonoma Wine Library on May 12 to discuss the pioneers of American wine.
Although Present covers about 80 years of winemaking in America, one of its great revelations is that even after the Eighteenth Amendment was ratified in 1919, the wine industry continued to exist, much of it with perfect legality, during the nearly 14-year thirst of Prohibition. Sure, America had its fair share of speakeasies where wine flowed, masquerading as "basement rotgut" or "red ink." But Pinney enlightens us that some of these images (e.g., saloon patrons frantically trying to outrun the law) are just myth. In fact, the Volstead Act, which was the actual piece of legislation describing how Prohibition would be enacted, was constructed to punish the seller of wine, rather than the buyer or the farmer, so saloon patrons had no reason to flee.
Pinney's dry humor underscores Prohibition as a massive, self-contradiction. Provided producers had the right permits, alcohol manufacture was allowed for certain purposes: medicine, industry, cooking and religious sacraments. In fact, Beaulieu Vineyard, which still exists in Rutherford, had a special relationship with the San Francisco Catholic diocese and managed to thrive during the dry years by providing it with altar wine. Each family could make up to 200 gallons per year of "fruit juices," and although the law's language didn't exactly condone fermentation, it implied that home winemaking was legal.
With Roosevelt's election in 1932, it became clear that a repeal was on its way, and although it wasn't signed into effect until the end of 1933, Pinney says that Americans "were acting as though Repeal had already happened." Gallo, currently the largest wine producer in the world, got its start the autumn prior to Repeal when the winery's founding brothers were granted a permit to produce 50,000 gallons of wine.
But the picture wasn't all rosé. Although there was actually more wine in storage at the time of Repeal (48,000 gallons) than when Prohibition began (17,000 gallons, after 30,000 gallons had been rapidly sold in preparation for the dry spell), the number of licensed wineries throughout the United States decreased by a dramatic 70 percent. Miles of red tape even required vintners to petition in order to dump wine, which had to be "closely supervised so that the wine was not 'diverted.'" As many wineries fell into disrepair, winery owner Samuele Sebastiani escaped that fate by "diversifying into any opportunities that arose," including building his eponymous movie theater that stands as a Sonoma landmark today.
So what did Prohibition actually succeed in doing?
According to Pinney, not much more than wreaking decades of damage on the wine industry. "I can't imagine a worse time for Repeal to take place--there was no money to do things properly," he says, referring to the poor-quality wine that would inevitably persist during the Great Depression. He quotes Fortune magazine's 1934 abysmal diagnosis of most California wine as "belly wash." And belly wash it would remain, as Americans either preferred fortified wines or forewent the "sissy drink" altogether in favor of scotch, well into the postwar era. It wasn't until the 1970s that American wine finally recovered, far surpassing pre-Prohibition quality as a result of better technical processes, grape varietals and business practices.
On the other hand, Prohibition's effects still linger like bad karma in other arenas of the wine industry. "The second part of the Repeal amendment basically said that every state may do what it wants with respect to the liquor trade, so the federal government could wash its hands of the matter," says Pinney. Hence, interstate shipping of wine is still a Kafka-esque nightmare, despite the Supreme Court's attempt to streamline the rules last year.
Most of all, Pinney laments the stigma that wine still carries, citing that the federal government's only concern with wine has to do with fiscal interests. He says that the only "legal specifications for wine were written by the Treasury," whereas he feels there should also be a division of the federal agricultural department focused on advancing viticultural science. Illustrating just how ridiculously skewed the federal government's view of wine is, Pinney says, "I have a friend who worked for the U.S. Department of Agriculture from the '60s through much of the '80s, and he wasn't allowed to say the word 'wine' officially, even though he was working on wine grapes, among other things."
Thomas Pinney discusses the pioneers of American wine, based on his new book 'A History of Wine in America,' on Friday, May 12, at the Sonoma County Wine Library. Wine tasting and hors d'oeuvres follow. Sonoma County Wine Library, Piper and Center streets, Healdsburg. 7pm. $10-$20. Reservations encouraged. 707.431.2898.
Send a letter to the editor about this story.