05.11.11
home | north bay bohemian index | news | north bay | news blast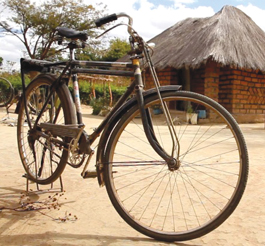 News Blast
By Leilani Clark
Wheel Appeal
H. G. Wells once said, "Every time I see an adult on a bicycle, I no longer despair for the human race." The documentary With My Own Two Wheels highlights the impact of the bicycle in Zambia, Ghana, India, Guatemala and California, and premieres this week as part of a benefit for the Bicycle Works of San Anselmo—a DIY cooperative bike workshop—and the new Women on Wheels Program of the Marin County Bicycle Coalition. Producer-director Jacob Seigel-Boetnner is on hand for a Q&A, and Sol Food caters the pre-screening reception on Sunday, May 15, at the Marin Youth Center. 1115 Third St., San Rafael. 6:30pm. $12-$15. 415.459.6884.
Stay Gold
No one's going to argue the fact that California is in decline. Schools, prisons and local governments struggle to cover even basic expenses, and the Golden State is first in the nation for job loss, adult illiteracy and budget collapse. With state government as gridlocked as an L.A. freeway at rush hour, CSU professor of government Jeff Lustig asks: What happened to the potential of the West Coast's golden child? And how might that potential be fulfilled? With his recently released anthology, Remaking California: Reclaiming the Public Good (HeyDay Books; 2011), Lustig speaks on the roots of crisis in California and remedies culled from the book's essays by leading writers and scholars on Friday, May 13, at the Peace and Justice Center. 467 Sebastopol Ave., Santa Rosa. 7pm. Free. 707.575.8902.
Send a letter to the editor about this story.