05.12.10
home | north bay bohemian index | the arts | stage | review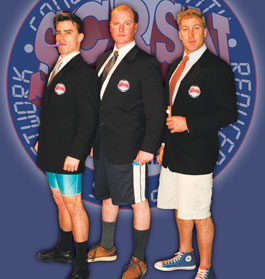 Playing with Balls
The Rep kicks off a new 'Reduced" show
By David Templeton
First, the stats. According to Reed Martin and Austin Tichenor—the writing and performing team behind the (abridged) series including shows about the Bible and William Shakespeare—there have been 3,477.3 different sports, in nine distinct categories, since the beginning of human history. In their newest show, The Complete World of Sports (abridged), opening this weekend, Martin and Tichenor do for baseball, basketball and sepak takraw (a torturous Southeast Asian form of volleyball), what they've already done for Moses and Hamlet.
"It's a lot of fun to do, and presumably is a lot of fun to watch," says actor Ben Stowe. "It's been wild working with all of these guys, developing this weird new comedy. It is a comedy, right?"
"We hope so," Martin nods, eyes widening in mock panic.
"The trick with our shows," Tichenor adds, "for the actors, is to play it as if it's not funny. If they act like they know it's funny, it's not funny. If they act as if everything they say is dead serious—then it's hilarious."
The fledgling show features Stowe, along with Chad Yarish and Dodds Delzell (above, in that order). Martin and Tichenor are directing, taking advantage of a rare opportunity to develop a new script without also starring in it. In August, Martin and Tichenor, stepping in as performers this time, will take Sports on the road under the auspices of their legendary comedy/theater group, the Reduced Shakespeare Company.
As always, Tichenor and Martin have packed the script with tricky wordplay and acrobatic puns. There are the usual assortment of broad physical gags too: a slow motion, instant replay of a rock-paper-scissors game. A bit about men's synchronized swimming. A demonstration of the first sport ever played: Neanderthal-in-the-Middle.
"What's great about this show," Delzell remarks, "is that, as an audience member, just like in the Bible show or the Shakespeare show, you don't have to know anything about the subject matter to enjoy it. You don't have to be a sports fanatic to get this show. In fact, even if you hate sports, you'll enjoy it. You might even like it more if you do hate sports."
The Complete World of Sports (abridged) runs May 12–June 13, at the Sonoma County Repertory Theater. Thursday-Saturday at 8pm; Sunday at 2pm. 104 N. Main St., Sebastopol. $15–$25. 707.823.0177.
Send a letter to the editor about this story.