May 16-22, 2007
home | north bay bohemian index | music & nightlife | essay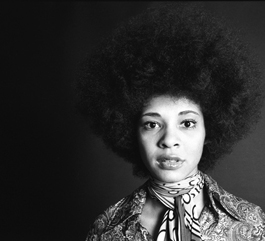 Photograph by Baron Wolman

Get Ready for Betty
The funk soul sister even Miles couldn't tame
By Gabe Meline
When Betty Davis first started making records, it's possible there might have been something that sounded like her--a squealing spaceship, perhaps, or a jackknifed rig. One thing's for sure, it wouldn't have been human. Even this week, when Davis' first two albums, Betty Davis and They Say I'm Different, are seeing the light of day for the first time in 30 years, finding an equal to Davis in both sound and attitude is impossible.
Before Lil' Kim, Salt-n-Pepa, Millie Jackson, Chaka Khan and even a few crucial years before Tina Turner's solo work, Betty Davis created an explosively sexual persona of independent fierceness, through which she growled, kicked and grinded her way. A prolific songwriter, her first song, written at the age of 12, was "I'm Going to Bake That Cake of Love." By 1973, the same sentiment had grown up a little with her debut album's opening track: "If I'm in Luck, I Might Get Picked Up." The prowl was afoot.
As much as others may want to elevate the erroneous assumption that Davis was the first woman to sing about getting laid, Davis' legacy--other than the stellar, gut-kicking funk she recorded--lies in her headstrong determination to make on her own terms it in a male-dominated business. A published songwriter for the Chambers Brothers even before she met and married Miles Davis--whose name she took at the altar and to whom she introduced her downtown friend Jimi Hendrix--she never dreamed of living in the volatile trumpeter's shadow. But after Miles Davis jealously shelved an album the couple had been working on for Columbia, Betty strapped on her silver, thigh-hugging, high-heeled boots and walked out.
Quick to find new musical partners, Davis came to San Francisco and inked a deal for her first record, assembling a mind-blowing band: Graham Central Station's Larry Graham on bass, Neal Schon of Santana and Journey on guitar, Merl Saunders on piano and Tower of Power's Greg Adams on trumpet, to name just a few. She even enlisted three sisters named Pointer to sing backups, and the songs, all written and arranged by Davis, were vicious, visceral and undoubtedly ahead of their time. But despite the support of fans like Richard Pryor, Muhammad Ali, Maurice White and Cecil Taylor, Davis' career fizzled out at the end of a decade, a star that burned hot and blinding for a quick flash before disappearing altogether.
These days, Davis lives in quiet obscurity somewhere outside Pittsburgh, turning down interviews and shying away from the spotlight. She's acquiesced to the reissues of Betty Davis and They Say I'm Different, but will say no more about her reasons for retirement, her relationship with Miles or even what she's been doing for the last 30 years. It's hard to believe, but maybe, in some residual stroke of determination, she wants to let the music that she made speak for itself.
Betty Davis and They Say I'm Different, both reissued by Light in the Attic Records, are in stores this week.
Send a letter to the editor about this story.