May 16-22, 2007
home | north bay bohemian index | sonoma, napa, marin county restaurants | essay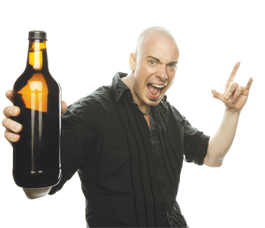 You be the ed.: OK, smarties--how would you illustrate this story with no photographer and no desire to make an ad for a particular barleywine brand? Huh?
Sippin' Suds
Ancient and strong, barley wine is beer that thinks it's a liqueur
By Alastair Bland
Imagine a beer so rich that it can only be described in the eloquent language of wine drinkers, a beer so noble that it may age and improve for years like whiskey, and a beer so big that it dwarfs even the greatest of the Belgian ales.
You are now imagining barley wine.
"Barley wine is a symphony of beer," says Tony Magee, president of Lagunitas Brewing Company in Petaluma. "It's everything about beer with the volume cranked up as loud as it goes. Barley wine is like turning up your little fender amp to 11."
Like numerous other microbreweries in the United States, Lagunitas makes its own barley wine each winter, a highly praised brew called Old Gnarleywine. But Magee demands that any discussion of this grand old ale first include a tip of the hat to the man who introduced barley wine to America three decades ago: Fritz Maytag, owner of Anchor Brewing Company in San Francisco.
"I'd just made my first ale in the spring of '75," Maytag recalls. "It was Liberty Ale, but I wasn't satisfied with it. I thought it was inferior, so I made a voyage to England."
With a company partner and a photographer friend, Maytag toured the pubs of England for several weeks, searching the fatherland of brewing for a beverage of pure malt and heavy on the hops--"the old style of brewing," he calls it. But Maytag's expedition revealed, to his disappointment, that British beer makers had largely abandoned their traditional styles and techniques. The traveling trio tasted numerous beers thin and airy, composed largely of sugar, not malt, and without the explosion of hops Maytag had anticipated in Old World brews.
But perseverance--or perhaps fate--at last introduced the drinkers to a dark, rich, malty ale, the likes of which Maytag had never before tasted. "We asked what it was, but all the guys in the bar laughed and said, 'Oh that's just barley wine! Old ladies drink it after dinner!'"
But Maytag tasted in this beer all the qualities he had been looking for. He and his companions probed the brewmaster and by the end of the evening had effectively secured the recipe. They fled for home, and, back in San Francisco in their small brewery, they immediately got to work stewing up their--and America's--first batch of barley wine.
"It was very high gravity, and we dry-hopped it, which was a radical thing to do then," Maytag says. "We put it away until the spring, and when we tried it, we just loved it."
Upon attempting to market this promising new beverage, the Bureau of Alcohol, Tobacco and Firearms would not stand for a beer to be called "wine," so Maytag ducked under the radar and labeled it as "barleywine." The disguised name slipped past the feds and thus was born Old Foghorn Barleywine Style Ale, now an American classic.
The late 1970s melted into the '80s, and as booze-loving legislators eased up the various home brewing restrictions left over from the tight days of Prohibition, microbreweries like New Albion, Sierra Nevada and Pacific Coast Brewing Company sprang to life, each producing a barley wine today. The beer is a demanding child. It requires more ingredients than other brews, longer boiling times, a special attention to the progress of the hard-working and sometimes struggling yeast, and months of aging in both barrel and bottle. Thus, only small-scale brewers, who possessed the creativity and liberty to explore, could address these requirements, and with the rise of the microbreweries, barley wine found its niche in America.
Bass devised the name "barley wine" in 1903, but the beer's lineage extends back centuries under other titles. "Old ale," "strong ale" and "stock ale" all refer in ancient texts to brews something like the strong and rich barley wines we know today. Brewers produced such beverages for noblemen, and often they utilized the same grains once or twice more to create progressively weaker beers, beverages designated for the poor, the women and the children.
Strangely enough, it is those same watery, tasteless styles that the big American breweries have nominated the kings and emperors of beers, leaving whiskey and wine for the noblemen. But all that is changing.
"Consumers are into the idea of stronger beers," Magee says. "They're becoming more willing to go up the steps of higher alcohol beers, and barley wine is about as high as you can get."
It's true. Not even the praised ales of Belgian monks can match a stiff barley wine, and a few noble examples of the latter reside comfortably up in the lofty kingdom of Zinfandels and ports. Drake's Brewing Company, for one, makes a barley wine of 14.7 percent, and Dogfish Head Olde School, a brew from Delaware, runs 15, but the average specimen contains about 9 percent or 10 percent alcohol by volume.
That's a fine thing on its own, but most significant is that this high density of alcohol will preserve the beer and thus allow it to age. Many other beers must be opened within several months of bottling, and at tasting festivals, such brews are sampled in a horizontal fashion, meaning that one sips numerous beers of a single type, from the same vintage, and from a range of breweries. Barley wine, however, easily lends itself to the distinguished art of vertical tasting, in which numerous vintages of the same beer from the same brewer are stacked up and sampled one by one, granting tasters a glimpse at the changes, subtle and stark, that overcome an aged beverage with the passage of the years.
"Beer is a big organic soup," says Magee. "All these organisms in it have half-lives, and they disappear a bit at a time. Our barley wine has a pronounced hop end at first, but that softens up within a few months. The malt comes around and eventually the hops dissipate completely and you're left with a nice, silky malt drink." Magee feels that most barley wines will peak at a year and says that after that "they just get interesting."
But Donald Barkley, master brewer at Ukiah's Mendocino Brewing Company, once tasted a Thomas Hardy's Ale that had been aged for 20 years. "It was absolutely delightful," he recalls. "The overall flavors of sweetness and the rich body just boomed out of it."
Other qualities to taste for in a fine barley wine include a trace of hops, multiple layers of malt, a full mouth-feel and a finish that lasts two to three minutes. This may sound more like the refined hobby of winetasting than knocking back a cold one at Miller time, and, indeed, for some beer drinkers barley wine may be too much to handle at the day's end.
"For any beer to be really popular it has to be dumbed down for the masses," says Arne Johnson, brewmaster at Marin Brewing Company. "That basically means taking away a beer's flavor. People don't want to think about all that when they're just getting drunk."
According to Barkley, the light-bodied, six-pack-a-day approach to beer drinking is a contrived product of the post-World War II era, when mass marketers and national distributors bought up the small breweries, sucked the flavor and body out of beer, and marketed the pale liquid as something to be guzzled cases at a time.
"But that's not the history of beer," he says, "and what we're seeing today with the microbreweries is a return to the traditional values of this fine beverage. We're right now turning back the clock to a more healthful time, when people combined good flavors, good friends and good beers, and enjoyed them, and in the spectrum of beers becoming available today, barley wine is one of the shining stars."
Gnarly Barleys
Our short list of area barley wine makers
Anchor Brewing Company: "Old Foghorn," 8 percent to 10 percent ABV, year-round.
Lagunitas Brewing Company: "Olde Gnarleywine," 9.9 percent ABV, seasonal, just released! 1280 N. McDowell Blvd., Petaluma. 707.769.4495.
Mendocino Brewing Company: "Talon True Style Barley Wine Ale," 10.5 percent ABV, seasonal release.
Marin Brewing Company: "Old Dipsea," 9 percent ABV, year-round. 1809 Larkspur Landing Circle, Larkspur. 415.461.4677.
Moylan's: "Old Blarney," 10 percent ABV, year-round. 15 Rowland Way, Novato. 415.897.0100.
North Coast Brewing Company: "Old Stock Ale," 11.7 percent ABV, year-round. 455 N. Main St., Fort Bragg. 707.964.2739.
Russian River Brewing Company: "Old Gubbillygotch Barleywine," 9.5 percent ABV, seasonal; in February. 725 Fourth St., Santa Rosa. 707.545.BEER.
Speakeasy: "Old Godfather Barley Wine-Style Ale," 10.2 percent ABV, only available on tap.
Third Street Aleworks: "Old Redwood Square Barleywine," 9.7 percent ABV, seasonal to winter holidays. 610 Third St., Santa Rosa. 707.523.3060.
--A.B.
Send a letter to the editor about this story.