May 16-22, 2007
home | north bay bohemian index | music & nightlife | essay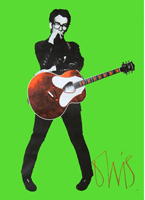 Moods for Moderns
Elvis Costello's angry young man phase remains a force to be reckoned with
By David Sason
Whenever election season rolls around it seems a new slew of Elvis Costello reissues and retrospectives accompanies it. With nearly 30 proper albums in as many years, there's plenty to reflect on. And while we wait out the months until our own regime change, a new Universal acquisition bestows upon us Elvis Costello Originals, a set of his first 11 albums and two new hits packages.
Costello's first decade of music is persistently astounding, a formidable, fertile period of Beatle-esque pop music experimentation that, with the help of his crack band the Attractions, transcended the confines of the punk/new wave aesthetic in a way only the Clash had succeeded. His work's legacy, of course, is intact: My Aim is True is still overrated in its entirety; This Year's Model remains the true start to the renaissance; the mediocrity of Punch the Clock and Goodbye Cruel World accentuate their surrounding records' brilliance; and while a guilty reminder that sometimes pain equals great art, Blood and Chocolate still kicks the shit out of virtually any rock record since its 1986 release.
Modern-day lenses also prove serendipitous, with his vitriol still potent, from the fascism motifs of 1979's classic Armed Forces to the prophetic Americana excursion King of America, which opens with the near-perfect W report card "Brilliant Mistake." More trivially, it's difficult to ponder Costello's '86 pseudonym Napoleon Dynamite without thinking of the popular film. Though producers insist the name's a coincidence, it's hard to ignore the line in "Poor Napoleon" that states, "One day they'll probably make a movie out of all of this."
In a wise move, these releases don't attempt to compete with Rhino's recent two-disc reissues and instead offer novelty in their LP-replicating packaging (although the case's small size makes his debut's audacious message "Elvis is King" nearly illegible). This also marks the first time his early catalogue will be available digitally, reminding us that physical packaging of music in general is itself a relic and giving the fake circular impressions on Get Happy!!! a more updated significance. These releases are perfect for the uncommitted vinyl enthusiast.
The hits package The First 10 Years is an effective introduction to the Costello, but Rock and Roll Music, the thematic up-tempo collection, would've been a better companion piece if solely comprised of non-hits, featuring "Shabby Doll" or "Next Time Round" instead of "Pump It Up" once again. The set does end poignantly on an unreleased demo of "Welcome to the Working Week," a reminder of Costello's forgotten day-job dreaming and a teaser for a possible excavation of archives. Though his emergence was certainly less earth shattering as the king, the Elvis who actually wrote his own songs is certainly worth just as much attention.
Send a letter to the editor about this story.