May 16-22, 2007
home | north bay bohemian index | music & nightlife | preview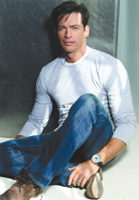 Hometown boy: Harry Connick Jr.'s extra attention these days is entirely devoted to restoration of New Orleans.
Yes We Can Can
Harry Connick Jr. and the fight to rebuild New Orleans
By Gabe Meline
It's been over a year and a half since Hurricane Katrina struck New Orleans, but when Harry Connick Jr. calls me on a recent morning, it's all we end up talking about. He has one word to describe the spirit of the city: "Depressed."
Connick explains: "They can't live in their houses, most of the people. The majority of the population can't come home. It's bad. It's really bad."
For most of America, the devastation in New Orleans that once dominated the news has been relegated to out-of-sight, out-of-mind status while much of the city remains in shambles. "These types of situations have a tendency to get on the back burner," Connick says, "and we're just not gonna let that happen. I think I have a moral and ethical responsibility to stay on top of it."
With his most recent album, Oh, My Nola, and especially with his cofounding of the Musicians' Village in New Orleans, Connick is working hard to ensure that his beloved hometown is both remembered and rebuilt after the catastrophe. He appears May 26 at the Sonoma Jazz + festival.
Connick was in Cape Cod visiting friends when Katrina hit, but after hearing the news, he borrowed a plane from NBC to fly down as quickly as possible. "I was just helpless," he recalls. "When they said 80 percent of the city was flooded, it was hard to imagine. I was in shock."
The storm hit on Monday; Connick was there on Tuesday. A fan recognized him on the street and brought him to the Convention Center, where he found thousands of people waiting to be helped. Two of them were dead on the sidewalk. Connick still can't pinpoint exactly how the sight affected him.
"It's like if somebody hits you in the head with a baseball bat and you happen to survive it," he says. "It's just a painful experience that you go through and eventually get over. It was rough to see."
Though Connick's official press release from Columbia Records states that he maintains a "focus on solutions instead of casting blame," Connick assures me that he casts plenty of blame, but not publicly. There's one person he would have liked to have seen in New Orleans in the days after the storm: President Bush.
"I think he should have been down there," Connick says, "and I don't know why he wasn't. He's our president, and it's nice to give him the benefit of the doubt, but I think he absolutely should have been down there and had his sleeves rolled up. If you look back 40 years, there was another president from Texas [Lyndon B. Johnson] who, after a hurricane in New Orleans, was trudging through the sludge, tryin' to help people."
Then there's Connick's friend the trumpet player whose entire family lost their home and whom Connick was helping sponsor to get a house out of town. "But when they found out he was black," Connick fumes, "they actually said 'We don't want those people here.' I mean, it's 2007. It just makes no sense at all."
And so it was that this past week, during the New Orleans Jazz and Heritage Festival, that Connick was back in the Upper Ninth Ward painting houses in the Musicians' Village he co-founded with musician Branford Marsalis. The Habitat for Humanity-sponsored project will supply affordable housing--largely for displaced musicians--and with 50 single-family homes already completed, it's been the most successful rebuilding project in the city so far. "There doesn't have to be a bunch of red tape," says Connick, referring to the many charity donations and state relief programs tied up in bureaucracy. "You just raise the money, put your mind to it and get the work done."
On his current tour, every night, Connick performs Allen Toussaint's "Yes We Can Can"--a song he sees as the theme for New Orleans. "It's so simple in its sentiment. It basically says, 'I know we can do this.' As cliché as it sounds, that's kind of what we need to be saying right now.
"It's just gonna take a long time," he summarizes. "If you look back in history at natural disasters in other places--I mean, we ain't even reached two years yet. These things sometimes take decades to repair. So, you know, we're doin' all right."
Harry Connick Jr. performs with his big band as part of the Sonoma Jazz + Festival on Saturday, May 26. 151 First St. W., Sonoma. $60-$110. For more info, visit www.sonomajazz.org.
Send a letter to the editor about this story.