May 16-22, 2007
home | north bay bohemian index | the arts | stage | review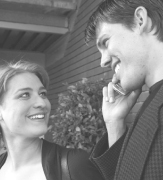 Photograph by Eric Chazankin
Rough strife: Alice Grindling and Robert K. Dornaus III.
Life of a Marriage
'Last Five Years' is the Rep's first-ever musical
By David Templeton
Jason Robert Brown's immensely popular modern musical The Last Five Years was conceived as a show that could be staged with very little space and with very few actors--two, to be exact--one male, one female. As cash-strapped theater companies constantly beat the bushes for clever ways to do more with less, the notion of a two-human musical with a five-person orchestra--especially one that has generated a kind of rabid, CD show-tune cult of young people who swap Years bloggings and repeatedly listen to the original cast recording the way some people read spiritual texts--has to be attractive. With this in mind, it comes as no shock that the mighty Sonoma County Repertory Theater, considering which show to present as its first-ever musical, would end up anointing The Last Five Years as the chosen one.
It is also no surprise that the Rep, after choosing Years, would dare to take the beloved but never-before-seen-in-the-North-Bay musical and turn it all sideways, with noted director Ken Sonkin making significant changes to the way the show has always been staged.
"In terms of directing, the way I approach a show is as a storyteller," says Sonkin, who was recently appointed to the theater department of the University of San Francisco. Seen last year as Teach in the Rep's production of American Buffalo, Sonkin has directed several shows at Cornell College in Iowa, and has acted and directed with American Conservatory Theatre in San Francisco, the Berkeley Rep, the Marin Shakespeare Festival and many others. An acclaimed magician, he was also director for three years at the Theatre Artists Institute in San Jose. "I love to tell stories onstage," Sonkin says. "So whether it's a large-scale show or small-scale show, I look for ways to bring the story to life in as engaging a way as possible, and the thing that engages me, as a storyteller, is the interaction between people."
So how does an interaction-is-key philosophy work in a show in which the main characters never interact? As constructed by Brown, The Last Five Years traces the five-year relationship of a young, modern, married New York couple, Jamie and Catherine, but does so in a series of music-centered scenes alternately told by the two characters. To make things even more interesting, Jamie tells his stories in chronological order, beginning with their first meeting and ending with the dissolution of the relationship, while Catherine tells the same story in reverse order, beginning just after the breakup and working backward toward the beginning. They share one duet only, meeting in the middle of their story to sing at their wedding.
In the Rep's version of the play--featuring Alice Grindling and Robert K. Dornaus III as the likable but doomed couple--Jamie and Cathy still take turns, but as they play their way through various stages of their relationship, Sonkin finds ways of bringing those memories to life using both actors. When Cathy sings about an event that occurred between her and Jamie, the scene comes more fully to life with Jamie playing his part onstage, instead of through Cathy simply working the stage as she sings.
"This way," says Sonkin, "we get to see the relationship, the love and romance, the dysfunction and the unraveling, instead of just hearing about it through beautiful music. This is live theater; it's not a concert. I've found ways to make it even more theatrical."
This production not only marks the Rep's first dabbling in the world of musicals, it is also the first time the company has launched a co-production, working with Santa Rosa's Sixth Street Playhouse, which will host the same show with the same cast and director in its newer, larger theater space next November.
"I don't plan to make any significant changes when we move to the bigger space," Sonkin says. "Maybe Jamie and Cathy's apartment will get a little bigger, but not too big. This is New York, after all, and New York apartments are small."
'The Last Five Years' runs Thursday-Sunday, May 18-June 24, at the Sonoma County Repertory Theatre. Thursday-Saturday at 8pm; Sunday at 2pm. 104 N. Main St., Sebastopol. $15-$20; Thursday, pay what you can. Opening night is sold-out. 707.823.0177.
Send a letter to the editor about this story.