May 16-22, 2007
home | north bay bohemian index | the arts | visual arts | feature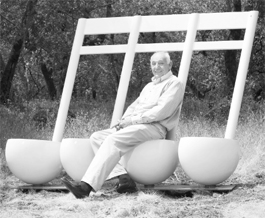 Photograph by Michael Amsler
Noteworthy: Paradise Ridge owner Dr. Walter Byck relaxes on Robert Ellison's musical sculpture.
Music for the Eye
Paradise Ridge new outdoor sculpture rotation makes images of sound
By Gretchen Giles
'There's just one more thing," sculptor Nicolas van Krijdt intones into the Bohemian's editorial voicemail system. "And it's important. I started out wondering what my sculptures would sound like if I tried making music from them, and now I'm using music to make sculptures from the sound itself. OK then, thanks."
Taken at face value, those are not complex sentences. None of the words is overly long or has elaborate Latinate roots. The syllable count doesn't soar above three. But the concepts that van Krijdt regularly wrestles with and that he will be performing from at the Paradise Ridge Sculpture Garden on May 20 are indeed complex, if not particularly Latinate or multisyllabic.
As one of 15 sculptors participating in Paradise Ridge's new annual round of outdoor installations, this year titled "Prelude," van Krijdt has hung 16 of his steel or parchment paper vessels from a stand of trees in vintner Walter Byck's five-acre pygmy oak grove high above Santa Rosa. Reminiscent of open pea pods, the vessels also resemble small boats and range in size from eight feet to four feet in length, and from 100 pounds to four pounds in heft.
One vessel in particular is special. Made of steel, it is strung down the middle with a length of airplane wire that crosses a fret-like structure and can be tuned. Under the ministrations of a cello bow, the vessel is played, making a high, mournful sound that retains the uncanny brightness of metal.
Recording ambient sounds onsite at Paradise Ridge for the past three months, van Krijdt has composed a site-specific sound sculpture for the grove that he will perform at the opening reception and as he sees fit over the next year. He is also hoping to put it in mp3 form on the winery's website so that visitors can download it and listen as they walk around. "The whole idea is for the [sound sculpture] to be a subtle amplification of what's here," van Krijdt says, standing in the grove and gesturing to the leaves, branches, breeze, birds, wildflowers, moss. "The way that these pieces move around, I'm loving the minute composition of the movements."
In the past, van Krijdt has done such art as walk a particular arrondissement in Paris recording the sounds, marking his audio path on an ordinary French map and then creating a musical chart from the aural cartography that matches the map with the sounds. The result is a uniquely three-dimensional musical composition that carries a nearly palpable heft.
For this piece, titled 16 Vessels, 28 Trees, van Krijdt has used the movement of the vessels as they sway from branches and limbs as markers to help him create a musical chart from which he plays and improvises. "When a classical pianist gives a recital, he or she will have the music in front of them, but they don't mostly read it; it's there for reference," van Krijdt explains. "In my case, the notation becomes part of the art. It does the same thing for me as traditional musical notes do for traditional musicians.
"I invented my own instrument and my own way to write the music, and it's not," he laughs, "out of laziness!"
Actually, finding a lazy man at Paradise Ridge would be something of a feat. On a recent Friday morning, Petaluma sculptor Edwin Hamilton is riding an earth mover replete with crane and two assistants, placing several tons' worth of stone objects in a southeast corner of the grove while Santa Rosa sculptor Riis Burwell pours a cement pad that Gale Wagner will use to support his massive antiwar sculpture at the front of the grove. Paradise Ridge owner Dr. Walter Byck, a man blessed with unstoppable energy, grins broadly.
"It's the most frightening, furious creature," he says, describing Wagner's piece, "and it's perched on the Washington Monument. It's scary and it's wonderful." Other artists participating in this rotation include Albert Dicrutallo, John DeMarchi, Dan Dykes, Robert Ellison, Michael Hayden, Bruce Johnson, Kristina Lucas, Michael Maes, John Pashilk and Bryan Tedrick.
With his winery celebrating its 13th anniversary by unveiling a newly renovated tasting area and handsome outdoor layout, this is the 12th cycle of annual art shows for the sculpture grove. This year, it will be renamed to honor Byck's late wife, Marijke Byck-Hoenselaars, who shared his great passion for outdoor art.
This year's "Prelude" collection points to another future, that of the Green Music Center (GMC), under construction and sparking controversy over cost at Sonoma State University. Byck has donated Asia, Bruce Johnson's totemic redwood archway originally crafted to honor Fountaingrove founding vintner Kanaye Nagasawa, to the GMC, where it will, he hopes, become as iconic of the new music center as it has been of Paradise Ridge for the past decade.
Though the GMC won't be open for another year and a half at the earliest, Byck says that he decided to preview, essentially, what a sculpture garden on the SSU campus could look like. "Much of this might end up being part of the first exhibit," he says. "Some of the pieces have to do with music or performance. Over the years, I've given a lot of tours of the grove and had a lot of opportunities to think about what gives people pleasure when they look at art. In part, 'Prelude' is what I think that the GMC should consider for its sculpture garden, pieces that interact with people who are coming to a concert; the art should enhance the experience just as much as a clean restroom does," he smiles. "Having sculpture onsite is the most cost-effective way to add enjoyment to an experience. Surprising, provocative sculpture--it doesn't necessarily have to be musical."
Rightfully proud, Byck admits that this is the first time that he's curated an entire art rotation in the sculpture grove himself. "I'm so lucky. It seems like I'm a great curator," he says, "but I really just have great friends."
'Prelude' kicks off with a winery reception and performance of '16 Vessels, 28 Trees' on Sunday, May 20. Winery open house from 11am to 3pm; artist reception and performance, 3pm to 5pm. Paradise Ridge Winery, 4545 Thomas Lake Harris Drive, Santa Rosa. Free. 707.528.9463.
Send a letter to the editor about this story.