May 16-22, 2007
home | north bay bohemian index | music & nightlife | essay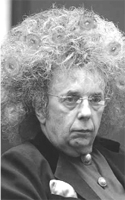 Courtesy www.weeklydonut.com
Hair of the dog: Habitual abuser Phil Spector gets his day in court.
Do Wrong-Wrong
How much bad behavior can we tolerate of our heroes?
By Karl Byrn
Phil Spector, the legendary "Wall of Sound" innovator responsible for the aural texture of '60s rock and soul classics as well as an entire school of recording theory, is on trial for the 2003 shooting death of actress Lana Clarkson of Cloverdale, a death that occurred in Spector's L.A. home after a night of drinking.
Knowing that Spector is the prime suspect, I've lately had trouble listening to his music. This past holiday season, I couldn't play a personal favorite, Spector's charming collection A Christmas Gift for You. Likewise, I squirmed a bit when the Ronettes, featuring Spector's ex-wife Ronnie, were inducted into the Rock and Roll Hall of Fame in March. The charges against Spector feel like the sordid finale to the producer's sad, sick history of violent intimidation of women.
Listening now to Spector's music, music essential to the DNA of rock, feels quite uncomfortable in the face of his trial for murder. That discomfort raises a few questions. What's our threshold for bad behavior by rock heroes? How much can we take before shunning their music? What bad behavior is truly untenable? Does it matter as long as the music sounds great?
Unless you favor the misconception that rock culture is mere entertainment, you have a line somewhere, some standard that you can't let your music heroes cross. It may be just the "no sellout" punk ethos or the parallel hip-hop impulse to "keep it real." Or that line may be real consequential actions that violate common social standards--like murder. Or child abuse. Grown man Michael Jackson has habitually preyed on 11-year-old male children, and those actions have tainted my interest in the strength of his great hits like "Billie Jean" and "I'll Be There."
Spector may not escape his trial as easily as Jacko did; there are five former girlfriends testifying that at various times, a drunken Spector threatened them at gunpoint. That testimony could highlight the most salient point of pure music appreciation in his murder trial: Spector's actions over the years have violated the integrity of his art. All-time gems like "Be My Baby" and "Da Doo Ron Ron" are grand statements of sweet, innocent romance, but Spector's serial intimidation of women spoils that vision. Likewise, it's hard to imagine Jacko as the suave, modern romantic presented in his art.
Similar in recent rock news, though not as vile, is the knighting of Bono. The U2 singer has been conspicuously disingenuous, partnering with sweatshop leaders the Gap, evading taxes and continuing to meet with powerful economic conservatives. His lack of integrity is now the first thing I think of when I hear the rallying, anthemic guitar riff of "New Year's Day." U2's best music shouts and demands a glorious everyman struggle, but don't be surprised to see Bono at Republican fundraisers in 2008.
Some unacceptable behavior doesn't necessarily betray its music. Most of the hype about ex-Libertines guitarist Pete Doherty has to do with the British rocker's drug relapses and drug busts, with secondary attention to the fact that his new band Babyshambles basically sucks. But this isn't a moral lapse. What else would we expect of Doherty after the Libertines' ragged music and his uneasy tabloid success?
Of course, good behavior doesn't guarantee good music. Metal guitar hero Tom Morello is honest with the pro-union sentiments on his new solo acoustic disc One Man Revolution, released under the pseudonym the Nightwatchman. But his dry folk stylings in the tradition of Woody Guthrie and Bruce Springsteen are duller than Death Valley.
Perhaps there's no line between terrific art and terrible artists. Maybe my judgment of Spector, Jackson and Bono is blurring the worth of very human, fallible heroes. But if Springsteen turned into Bono and started hanging out with George Bush, I'd lose a lot of trust for his music. Rock depends less on freedom and bigness than on authenticity, and that's one place where Spector's art has collapsed around his actions.
Send a letter to the editor about this story.