May 16-22, 2007
home | north bay bohemian index | music & nightlife | review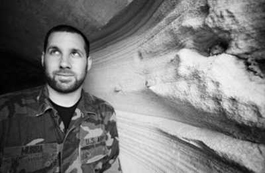 Smart-Ass Sage
Sage Francis makes the hip-hop world safe for poetry nerds everywhere
By Jeff Latta
While the gifted white rapper isn't quite as rare a beast as it used to be, it is still a singular animal that could win battle rap contests while sporting a Metallica T-shirt; that could float effortlessly between the worlds of poetry slams and underground hip-hop shows; and that could maintain any measure of credibility while spitting lines referencing Choose Your Own Adventure books. But then again, there truly is no other artist in music today quite like Sage Francis, who dropped his latest album, Human the Death Dance, this month through Epitaph Records.
Fans of Francis know that, even at his worst, he indulges the cleverest of clever wordplay. Human the Death Dance is no exception. His lyrics are conversational, approachable, intellectual and easy to relate to. They even add a multitude of layers to his albums; every time you listen to one, you catch a different witty metaphor or personal anecdote buried within. For the instrumental half of the equation, his beats are electric, energetic and eclectic. "Got Up This Morning" is country-fied, "Black Out on White Night" sports a plaintive string section and "Call Me Francois" brings a '70s B-movie sci-fi sound. The beats inform the mood as much as the lyrics, moods that run the gamut from playful to somber. Throughout whatever stylistic detour the album takes, Francis keeps it all together with his emotionally honest and singular style of lyricism.
Human the Death Dance isn't hip-hop meant just for people who love hip-hop; it's hip-hop for people who love poetry, for people who love honesty and, finally, for people who love music.
Send a letter to the editor about this story.