May 16-22, 2007
home | north bay bohemian index | music & nightlife | review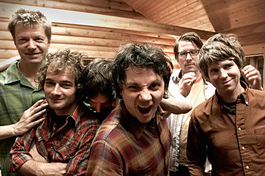 Grey Skies
Wilco's 'Sky Blue Sky' squanders excellent players on mediocre material
By David Sason
The 21st century has been anything but boring for Wilco. Whether being dropped from their major label for a record that became a modern classic (2002's Yankee Hotel Foxtrot), Jeff Tweedy's rehab stint, and a few more rounds of their serial lineup changes, the Chicago band that's embodied the potential of the so-called "alt country" genre has had plenty from which to draw inspiration. That's why it's so perplexing that Sky Blue Sky is so insipid. Wilco's follow-up to 2004's wonderfully eclectic A Ghost is Born, their first with their three-year-old lineup (an eternity for the group), is so uniformly lackluster that it usurps their debut A.M.'s title as the biggest stain on an otherwise glorious catalogue.
"Hands down, this has been the easiest Wilco record to make," Tweedy said recently of their first entirely studio-composed album. This proves true, starting with the uninspired opener "Either Way." Over gentle piano, percussion and strings that never heighten into noteworthiness, Tweedy waxes mundane about pop music's most common subject. "Maybe you still love me, maybe you don't," he sings, "Either you will or you won't."
The rest of the album is not much better, with instrumentation evoking 1970s-radio soft rock or ragtime rhythms that have served the band best in moderation (Imagine "Jesus, Etc." or "Hummingbird" for a straight hour!). Even the steadily simmering "Side With the Seeds," easily the set's highlight, suffers from a crescendo that never reaches a worthy sonic zenith. Elsewhere familiar arrangements ("You Are My Face" echoes the charming "The Late Greats" and the title track evokes "Far Far Away") only accentuate the problem.
Furthermore, Tweedy's unique beat-poet take on country-western lyrical themes have been replaced with impotent naturalistic imagery and bumper sticker philosophy, worst on the closer "On and On and On." "On and on and on we'll stay together, yeah," Tweedy says in his mildly raspy croon, "On and on and on, we'll be together yeah." It's hard to believe that he's the same writer who just a few years previous wrote the deliciously odd opening couplet "I am an American aquarium drinker, I assassin down the avenue."
Other than Sky Blue Sky's loose, jazzy feel and pure, sprightly solos throughout, free jazz ax man Nels Cline is not the innovative new band member as expected. But he is the most prominent other member since former guitarist Jay Bennett, exhibited on the plaintive "Please Be Patient With Me" where he provides sole jangly accompaniment to Tweedy's acoustic solo setup. He also sounds like the only musician besides Tweedy who gets to show off, with even resident basher Glenn Kotche confined to the tiniest of drum fills and cymbal taps.
With catchier melodies, Sky Blue Sky would be a great summer album, but it stands as a riddle: Why would two such adventurous musical souls as Tweedy and Cline make their inaugural document so subdued? Is convention the new avant-garde? At least the album's final line gives us hope. "You and I will try to make it better, yeah," Tweedy assures us. For the sake of Wilco's legacy, let's hope so.
Send a letter to the editor about this story.